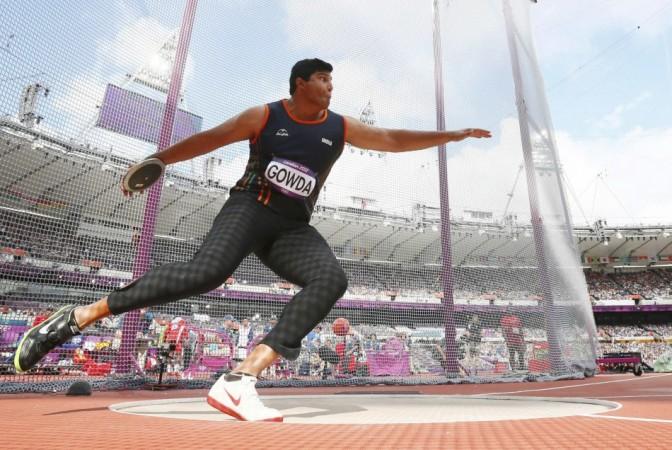 Monday was an action-packed day for Indians at the London Olympics with medal hopefuls in action but Tuesday is going to be a dull day with no big names in the fray.
The biggest attraction of the day is Vikas Gowda, who has qualified for the men's discus throw final. The other Indian athlete to be seen in action on Tuesday is Renjith Maheshwary, who will take part in men's triple jump qualification.
Indian Athletes in Action on Day 11, London Olympics:
Triple Jump
3.15 p.m. IST: Renjith Maheshwary - men's triple jump qualification
Discuss Throw
12.15 a.m. IST: Vikas Gowda - men's discus throw final
Hockey
8.30 p.m. IST: India vs Belgium - men's pool B
Highlights of Day 10
The main highlight on Monday was no dount MC Mary Kom. The 29-year-old five-time world champion from Manipur stormed into semi finals of the women's boxing 51 kg category by beating Maroua Rahali of Tunisia 15-6 on Monday evening, assuring another medal for India.
Mary, who is known by the name 'Magnificent Mary' among the boxing fraternity, will get at least a bronze from her first Olympic appearance with her quarter finals bout win against Rahali, taking India's medal tally to four.
However, India's star boxer Vijender Singh, who scored the nation's first Olympic medal in boxing four years ago, was knocked out of London Olympics in a tight quarterfinal match on Monday night to the much dismay of his fans back home. He lost to Abbos Atoev of Uzbekistan 13-17 in a nail-biting bout.
In athletics, Vikas Gowda stormed into the final of the men's discus. He qualified for the final with a throw of 65.20 metre.
Disappointment in shooting continues with London Olympics bronze medalist Gagan Narang and Sanjeev Rajput failing to qualify for the final in the mens's 50-metre rifle three positions. Manavjit Singh Sandhu also failed to qualify for finals of the men's trap.