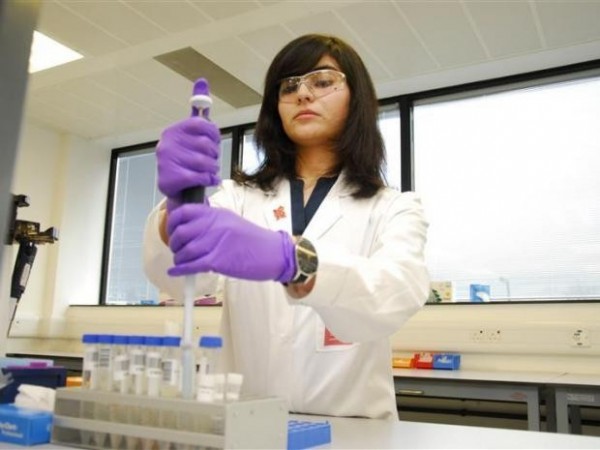 A special team of anti-doping scientists will be working round the clock in testing over 60,000 urine and blood samples of all participants of the London Olympics 2012 event.
A dedicated lab has been set up in the outskirts of London. Athletes, who fail in the test, will see their sports career as well as their handlers' careers meet a permanent end.
During the 17 days of the mega-sporting event, all medalists and contenders of all sports diciplines irrespective of their nationality, will take repeated doping tests until Aug 12. Players who refuse to take the test will either be banned from taking their due challenges or will be evicted from the Olympics.
Athletes will be directed to take tests anywhere and anytime at the sports venue, or in private residences.
Albanian weightlifter Hysen Pulaku was the first sportsperson to be removed from the 2012 Olympics after failing in the doping test.
A Stanozolol steroid was detected in the urine sample of Pulaku early this month. The steroid is relatively cheap and is an easy-to-detect drug, which like other anabolic steroids, is designed to mimic the effects of the male sex hormones testosterone and dihydrotestosterone.
A Reuters report revealed that Pulaku and his personal coach and uncle, Sami Pulaku, haven't denied the presence of the drug and that the decision to evict him from the Games would not be challenged.
At present, Pulaku is facing the possibility of a two-year ban by the international weightlifting federation.
Observing the gravity of shame and embarrasement an athlete would endure as a result of doping violations, authorities have set up a fool-proof system to avoid any goof-ups and to render a fair anti-doping campaign.
"Being found guilty of being a dope cheat in sport carries an enormous stigma, so it is only fair to the athletes that systems for testing are flawless," Leon Edwards, who runs Versapak Doping Control, a tamper-proof equipment maker, told Reuters.
"Modern procedures have every step covered, from incorruptible sample-gathering, tamper-evident methods of transportation and robust lab tests," he added.
Anonymity to ensure fair and unbiased doping-tests:
At London 2012, samples are identified only by a barcode from the point at which they are secured in bottles. This means neither the couriers carrying the samples to and from the lab, nor any of the scientists carrying out the tests, are able to know which athlete is being tested.
The samples are sent on an hourly basis and arrive at the anti-doping lab in Harlow, east of London, in a blue silver-lined box and have the barcode scanned in before testing begins.
The first task is for one of the 150 international scientists working to open and analyse sample A, and freeze and securely store sample B. The testing uses liquid chromatography and mass spectrometry equipment that can screen for more than 240 banned substances in less than 24 hours.
David Cowan, head of the Drug Control Centre at King's College London and the man overseeing London 2012's anti-doping regime, has said his team can screen up to 400 samples a day and expects to analyse around 6,250 in total during the Games.
"It is always a sad day when a cheating athlete is caught," IOC spokesman Mark Adams said on Saturday. "I hope there will not be more."
(With inputs from Reuters)