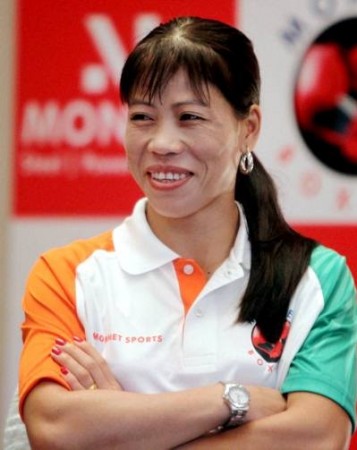 Indian boxer Mary Kom, the five-time World Boxing Champion and one of India's medal hopes in Olympic 2012, has been forced to coach on her own in Liverpool, after her trainer Charles Atkinson was denied official approval for the Olympics, Mirror reported.
Kom will return to London on Thursday Aug 2, three days before her match with Poland's Karolina Lichalcvuk. During the match her coach, who has trained her for almost a year, will not be there with her on the ring side.
"I could not get an accreditation for the Olympic village because there are apparently a limited number of spots. We are disappointed, both Mary and I. But we can't hold any hard feelings," Atkinson told Mirror on Tuesday.
"These are the way the rules are. We just have to abide them. It would've been nice for me to be sitting next to Mary. She certainly wanted that as well. But the federation made it clear that I could not get in," he added.
In fact, the 29-year-old was asked to get trained with women's team coach Anoop Kumar during her bouts. Throughout the Olympics games preparations Kumar and Kom have never worked together.
Ironically, Kom was assigned a coach who is not of her own choice even though she is the only woman in the Indian Boxing Team. Kom, who is a mother of two, is furious about the decision, but is unable to convince the officials to have Atkinson as her coach.
When Mirror contacted PK Muralidhar Raja, secretary of the Indian Boxing Federation and the Chef de Mission of the Indian contingent in London, he said Kumar could not be left unnoticed because he has served women's boxing for years.
"Mary wanted Atkinson but she hasn't really worked with him for that long. Kumar is officially the women's team coach. He had to be there ahead of Atkinson," he said.
.