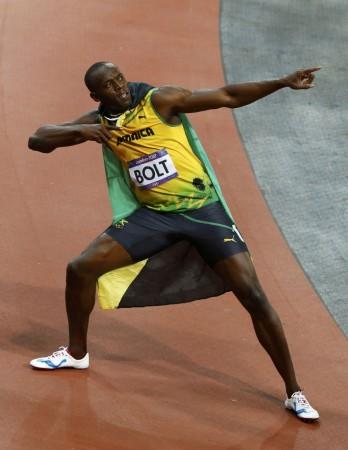 In the wake of sprint sports being hit hard by controversies with some of the biggest names - Asafa Powell, Tyson Gay and Sherone Simpson - testing positive for banned substances, world's fastest man - Usain Bolt, said he is clean and has never taken drugs.
The 26-year-old six-time Olympic sprint champion, who will run at the London Anniversary Games at the Olympic Stadium this weekend, will hit the track without some of the world's biggest runners.
"I have to work even harder to help the country and the sport. Now I'm even more focussed and ready to go and do better and try to inspire people and to show people that it is possible," Bolt told BBC ahead of the London Anniversary Games.
"I'm clean but you have to be very careful as an athlete because right now there are a lot of things on the banned list. You have to keep up to date with this kind of thing. It's kind of hard, but that's why you have a team to make sure. I get tested all the while. I got tested the day before yesterday. It's just part of the routine," he added.
Insisting that it was his sheer talent that has taken him this far, Bolt said that breaking records was not new to him, as he had tasted success even when he was a junior athlete.
"I've broken every record there ever was to break since I was growing up," he told the BBC. "It's not a surprise that I'm breaking world records because I've been doing it since I was a junior. I want to explain to people that 'this is just me'. I run fast because I have a talent and was put on this Earth to inspire a lot of people."
Sprint athletics have been hit hard of late after some of the biggest names failed drugs test.
The United States Anti-Doping Agency had made it public that American Gay, the fastest man in the world this year, was tested positive for drugs in May. Jamaican sprinters Asafa Powell and Sherone Simpson were also tested positive at the Jamaican Championships in June. They were awaiting the results of their B samples before hitting the track.