London's busy Oxford Street shopping district witnessed quite some panic on Friday evening after it was said that multiple shots had been fired, which raised fears of a terror attack in the area. The frenzy left 16 people hurt and the police rushed to the spot after receiving several calls about the incident.
Shoppers could be seen seeking shelter in packed shops and the jitters were evident. However, the police said they could find no signs of gunshots, suspects or casualties.
"To date police have not located any trace of any suspects, evidence of shots fired or casualties," AFP quoted the Metropolitan Police as saying.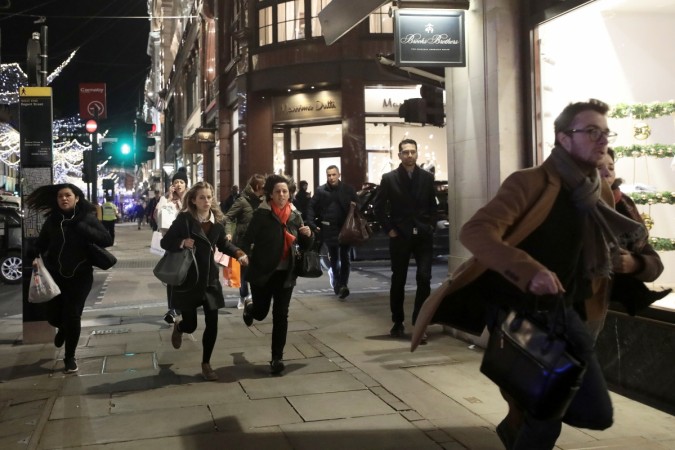 "Officers continue to work with colleagues from British Transport Police in the area of Oxford Circus," the police added. They also asked the shoppers to vacate the area and seek the help of the police personnel deployed.
Meanwhile, witnesses believe fears spread after two men got into an argument on a platform at Oxford Circus tube station. The resulting panic led to stampedes and reports of gunshots.
"They exchanged words, then a punch to the gut, then a full-out fight," Regan Warner told the Independent. "People were trying to break it up, there was lots of yelling. People were running away, a woman fainted, children were scared and crying.
"The emergency button was pressed. The fight was broken up and the parties walked in opposite directions."
The British Transport Police have now released CCTV images of the two men and have appealed for information on them.
"This caused a significant level of panic which resulted in numerous calls from members of the public reporting gunfire," a spokesperson said. "Officers responded in line with our procedures of a terrorist incident, this included armed officers from BTP and the Metropolitan Police.
"A full and methodical search of the station and Oxford Street was conducted by our specially trained firearms officers but they did not find any evidence of gunfire at the station."
The Oxford Circus was packed with customers who were in the shopping district to take advantage of the Black Friday deals. But the experience has left quite a few shoppers scarred.
Ahlam Ibrahim, who was shopping at the time of the incident, said she was pushed into a shop and people were shouting.
"We didn't know what was going on, it was really a nightmare. I am glad nobody was hurt," she told AFP.