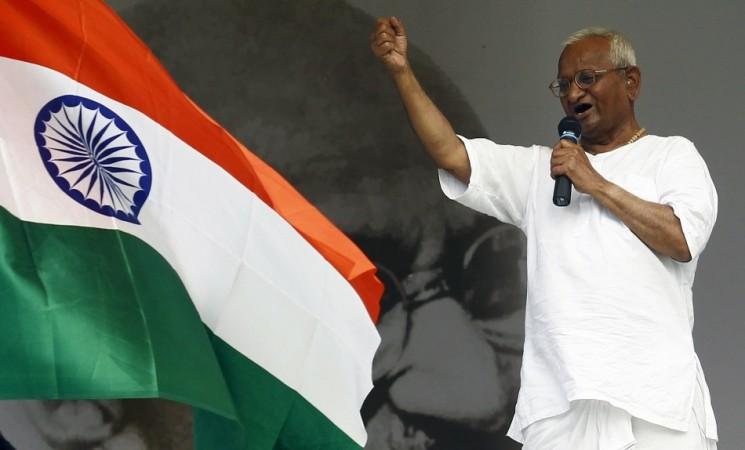 After a logjam, the Government has reportedly accepted the three key demands of team Anna over the Lokpal Bill, Times Now reported.
The government's draft of the resolution reportedly includes the three key points 1) Appointment of Lokayuktas in the states, 2) Preparing a citizens' charter 3) and including the lower bureaucracy under the ambit of Lokpal Bill.
"The Parliament is likely to adopt the resolution between the ongoing discussions on the Lokpal Bill," maintain the source.
The resolution will recommend that all the three issues be considered by the Standing Committee before which the Government's version and the Jan Lokpal bill have already been referred.
Further the channel reported that frantic discussions within government and between government and opposition parties took place to finalize the resolution that is likely to be taken up at the end of the discussion in both the Houses for adoption.
Meanwhile, Finance Minister Pranab Mukherjee had a meeting with BJP leader Arun Jaitley and is understood to have discussed the contents of the resolution.
Mukherjee also met senior ministerial colleagues including Law Minister Salman Khurshid and Parliamentary Affairs Minister Pawan Bansal. He is also expected to have consultation with government allies and leaders of other parties.
While, agreeing with Anna's demands, "such a step will be a good for governance," said BJP leader Arun Jaitley Saturday.
"All employees and public servants must be accountable. Accounting mechanism could be a part of the Lokpal. We do a need a citizen's charter and public grievance. Some states have already started it. The Centre should think about it too. It will be a good step for governance," said Jaitley.
At the same time he declined to support Anna's demand for inclusion of the conduct of MPs inside Parliament and judiciary under the Lokpal's ambit.
"There is a need to create a Judicial Commission. We should have judicial accountability and executive must not interfere in independence of judiciary. The task of appointing judges cannot be left to judges alone. This is for the mechanism of appointing Supreme Court and High Court judges," he added.
Echoing the Government stand on the inclusion of the Prime Minister after he or she demits office, "all public servants should be under the Lokpal," he said.
"Any public servant is bound by them so is the Prime Minister. If we are creating a law, we can't say this procedure does not apply to the Prime Minister. The Government's draft must seriously reconsider that the Prime Minister will be held accountable only after he ceases to occupy the post," said Jaitley.
He also demanded that whistleblowers should be protected under the Lokpal and the Lokayukta.
Regarding the tapping of phones under the Lokpal's ambit, "Are we going to create institutions which will be entitled to tap the phones of the Prime Minister? I told the civil society that it is one area I disagree with them. This is one area where I am sure the drafting committee will think," he added.
Meanwhile, according to a PTI report Sri Sri Ravi Shankar has insisted Anna Hazare to "breaks his fast before 6 PM Saturday at any cost."
Former Supreme Court judge and civil society member Justice N. Santosh Hegdealso expressed hope that a solution to end Hazare's fast would emerge by Saturday evening.
"I am hopeful," Hegde, a civil society member of the Lokpal bill joint drafting committee, told reporters here.
Hegde has been urging Hazare for the last three days to end his fast but continue his agitation for a strong Lokpal bill.
He said though he differed with Hazare on setting terms for parliament, he was still a member of Team Anna.
Hazare's fast entered its 12th day Saturday.
Breaking his 38 hours of silence, Anna Hazare addressed his follower at Ramlila Maidan ahead of the debate on Lokpal issue, saying that he will end his fast "if parliament passes a resolution accepting his three points."
"Three-four days" and "nothing will happen to him. I am not doing this for my personal gain. If it was so, I would not have lasted five days. Till Jan Lokpal Bill is passed, my protest will continue," he told.
Finance Minister Pranab Mukherjee initiated the debate on the Lokpal Bill with a statement in Lok Sabha.
Following are the highlights of his speech in Lok Sabha:
Highlights of Pranab Mukherjee's speech:
1) Would like to again appeal to Anna to end his fast
2) Discussions were held to discuss the draft of the Lokpal
3) There is agreement on 20 of 40 basic principles put forward by government and civil society activists
4) BJP chief's letter in June said civil society not decision makers, Parliament must have last word
5) Told Team Anna no immediate commitment possible
6) Explained to Team Anna that we need multi-layered laws
Pranab Mukherjee said there are six major issues of divergence:
1) One single act be provided for both Lokpal in Centre and Lokpal state. Will state govt be willing to accept draft provisions for Lokayukta on same lines as Lokpal?
2) Should PM be covered by Lokpal?
3) Should judges of high Court and Supreme Court be brought within ambit of Lokpal?
4) Should conduct of MPs inside parliament be brought within purview of the Lokpal?
5) Should Lokpal have quasi-judicial powers?
6) Can all civil servants be punished and dismissed by Lokpal and Lokayuktas?
Highlights of Opposition leader in Lok Sabha Sushma Swaraj's speech
1) Anna's agitation has become people's agitation
2) Historic debate in Parliament
3) Request MPs to debate the bill peacefully
4) Since 1968, this is the 9th time Lokpal Bill has come to Parliament
5) BJP also guilty for not passing Lokpal till now
6) Govt has always spoken in contradictory voices
7) Rahul Gandhi was allowed to preach during Zero Hour
8) Surprised at Rahul's statement yesterday
9) Rahul destroyed spirit of PM's speech in Parliament
10) PM should come under Lokpal but under two riders, national security & public order
Here is the points of drafts circulated by the government to political parties in parliament.
1) That this house resolves through an appropriate law that an effective Lokpal and state lakayukta be set up caompatible to constitutional mechanism.
2) Employees of states and center are brought under the purview through appropriate mechanism.
3) All government departments to have citizen's charter with a timeline for the completion of any work.