The Lok Sabha on Thursday, December 28, passed the bill that makes triple talaq — the act of Muslim men divorcing their wives by merely uttering the word "talaq" thrice — a punishable offence, where a person convicted of it can be jailed for up to three years.
The bill will now head to the Rajya Sabha, where it is not expected to face too much opposition. Once passed there, it only needs the signature of President Ram Nath Kovind to become the law.
Union Home Minister Rajnath Singh echoed this when he told news agency ANI: "It is a historic day. We are confident that it will be passed in Rajya Sabha as well."
Noor Jahan — a victim of triple talaq — was quoted by news agency ANI as saying: "This is a victory for Muslim women. They have fought for this for long. This will act as a deterrence."
However, All India Majlis-e-Ittehadul Muslimeen (AIMIM) member Asaduddin Owaisi — who has been opposing this piece of legislation from the beginning — was quoted by the news agency as saying: "The Triple Talaq Bill will not give justice to Muslim women but will lead to more injustice."
Arguments for and against
The Lok Sabha decision came after protracted arguments from both sides on what is formally called the Muslim women (Protection of Rights of Marriage) Bill, 2017.
Speaking against it, All India Majlis-e-Ittehadul Muslimeen (AIMIM) member Asaduddin Owaisi said: "This bill violates fundamental rights and lacks legal coherence."
Even Biju Janata Dal MP Bhartruhari Mahtab opposed it, saying: "This bill is flawed. There are many internal contradictions in the bill."
The All India Muslim Personal Law Board (AIMPLB) had already opposed it, claiming — among other things — that all stakeholders had not been consulted.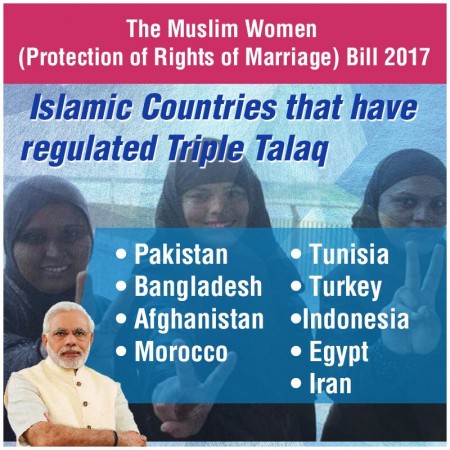 Possibly the strongest support for the bill, however, came from Union Minister of State for External Affairs MJ Akbar, who started off by questioned the authority of the AIMPLB. He said: "What is the credibility of All India Muslim Personal Law Board? Who chose them to be community representatives?"
He then chose to tackle the refrain of "Islam khatre mein hai", which translates to "Islam is in danger." Akbar said: "This slogan 'Islam khatre mein hai' was used before Independence to divide India, and is now being used to divide society. Poison is being spread."
Union Law Minister Ravi Shankar Prasad, who was martialling the resources along with other BJP members to get the bill passed, pointed out that triple talaq had been outlawed in a number of countries across the world, including several Islamic nations.
He said towards the end of the debate: "If bringing a bill for the betterment of Muslim women is a crime, we are ready to commit such a crime 10 times."
What the bill looks to do
This is what the Muslim women (Protection of Rights of Marriage) Bill, 2017, looks to achieve.