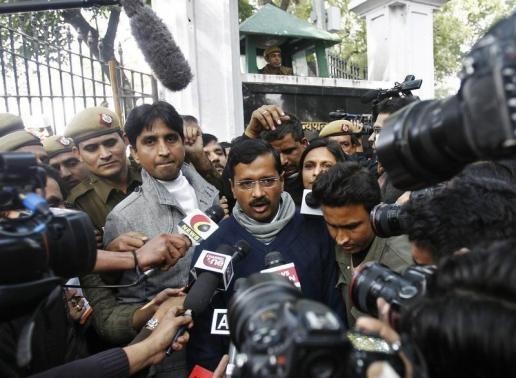 Aam Aadmi Party (AAP) convenor Arvind Kejriwal was attacked by a youth in Lohari Chowk, outside Dadri town in Bhiwani constituency of Haryana on 28 March. Kejriwal was on the first day of a three-day campaigning in his home state for AAP's candidates contesting in this year's Lok Sabha election.
The attacker has been identified as Jitender Sangwan, a law graduate. He was whisked away by the police but not before the AAP supporters thrashed him. Police said the attacker was under the influence of alcohol.
Kejriwal, who intervened while his supporters were thrashing the attacker, urged them not to resort to violence. He said the anti-corruption movement, he is leading, would come to an end abruptly if the AAP activists turn violent on such attackers.
"Someone hit me hard on my neck just now. This kind of violent reaction is expected of them. It only shows their true character and desperation. If we ever become violent, the movement wud be finished. So pl pl pl, in future if anyone hits us including me, we shud be nice to him," Kejriwal tweeted later.
Kejriwal also called upon his supporters to be ready for such attacks in the near future. He added that he is facing attacks as his party is contesting against several big leaders in this Lok Sabha election.
Party spokesperson Rajeev Godara said that the attack on Kejriwal appears to be a mischievous act to insult the leader. Police said the attacker was upset over Kejriwal for hijacking Anna Hazare's anti-corruption movement.
This is the second such attack on the AAP chief. Kejriwal was attacked in Varanasi last Tuesday, where an attacker splattered ink on Kejriwal and his colleagues while he was coming out of the spiritual city's temple of Kashi Vishwanatha. Protestors splattered ink on Kejriwal blackening his clothes and threw eggs on his car, waved black flags and shouted anti-AAP slogans.
Former Indian cricketer Kapil Dev has made it clear that he is not joining the Aam Aadmi Party. He condemned speculative media reports of him joining AAP.
Meanwhile, AAP has said that Kejriwal, the former Delhi Chief Minister, will pay a rent of ₹85,000 for the Delhi house, where he is still staying even after resigning his CM post. The Public Works Department of the Delhi government has slapped a notice to pay rent for the government house.
Kejriwal has contended that he has submitted an application to the government for the extension of his stay in the government house situated in Tilak Lane as his daughter's exams are scheduled in May of this year.