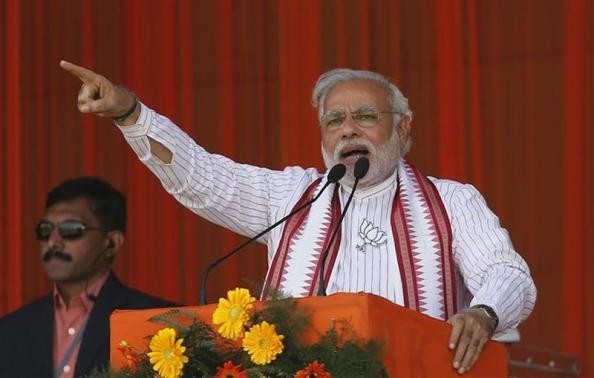 If Bharatiya Janata Party (BJP) is voted to power in the ongoing Lok Sabha elections, the next government at the Centre would strive to prevent corruption, said the party's prime ministerial nominee Narendra Modi. He described corruption as a disease and added that a mechanism would be brought out in the government to root out corruption.
Modi's priority is to minimise corruption through the mechanism. If such a government, headed by BJP, is formed at the Centre, it would see to that the mess of corruption would not raise its ugly head. The task would focus on cleaning up the mess of the already piled up old corruption cases, he added.
Such mechanism to prevent corruption would be aided with technology, transparency and all preventive measures, Modi said.
He stressed in the same breath that if he becomes the next Prime Minister, and any charges of corruption came up against him, such cases would continue to probe.
Modi, in an interview to CNBC- TV18 on 18 April, stated: "I will not make any appeal to Hindus or Muslims, but to the entire 125 crore people of India. If it suits them, then it is fine. If it does not suit them, I am ready to face defeat in the elections, I am ready to be wiped out."
Modi said that India cannot be divided in the name of secularism. A division between brothers of the nation cannot be accepted, he pointed out. The country is now divided in the name of secularism, Modi added.
Seeking Muslimminorities' votes, both Congress and BJP leaders have met the clerics of the religion.
When asked what was his party's objections to Congress president Sonia Gandhi meeting with Shahi Imam of Jama Masjid in Delhi, Modi said: "We want Soniaji to meet Muslims, Christians, Sikhs, anybody. It is part of democracy... but a particular community was told whom to vote for. This is against the Constitution and electoral laws. It is not wrong to meet, but the message that has gone out is a matter of concern."
(Ed: VP)