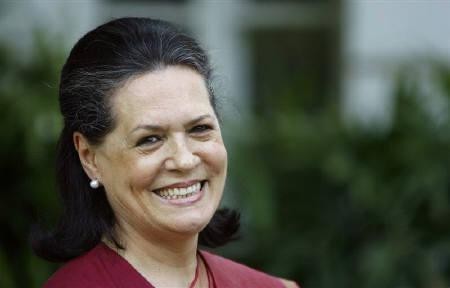 Congress president Sonia Gandhi is set to campaign in Telangana on 16 April for the ongoing Lok Sabha election. Lok Sabha and Assembly polls are simultaneously scheduled to be held in Andhra Pradesh on 30 April and 7 May.
Wednesday's rally is Sonia's first campaign in the region, after the government announced the bifurcation of Andhra Pradesh. Telangana is to be formed on 2 June.
Sonia's poll campaigning is much anticipated by the beleaguered Congress leaders, both in Telangana and Seemandhra. After Telangana was announced, Congress is seen losing its ground in AP, in the changed equations of various parties.
She will address the party's rally at Karimnagar's Ambedkar Stadium at 4pm. Sonia will reach Karimnagar from Trivandrum by a special flight that will touch down at Hakimpet Air Station at 3.15pm. From there, she will reach the stadium at around 3.55pm by helicopter.
Sonia will address the public meeting for 45 minutes. She will then return to Delhi. Congress senior leaders and the party's Andhra Pradesh in-charge Digvijay Singh has also been scheduled to participate in the campaign rally.
The Telugu Desam Party-Bharatiaya Janata Party combine, on the other hand, has planned a series of election rallies in Andhra Pradesh after 18 April.
The poll campaigns are to be addressed jointly by BJP's prime ministerial candidate Narendra Modi, TDP chief N Chandrababu Naidu and Jana Sena founder and actor Pawan Kalyan. These poll rallies, by the three leaders on a single dais, are expected to be crowd pullers. TDP is also understood to be planning to rope in its star campaigners - N Balakrishna and Junior NTR - both popular actors in AP.
Pawan has already endorsed the TDP-BJP combination in AP, and started campaigning for BJP in Karnataka on 15 April. He addressed two huge rallies in Karnataka's Raichur and Kolar but could not make it to the third one at Gurmitkal in the Gulbarga district.
Meanwhile, it is said that Modi has invited popular Tamil actor Vijay to meet him in Coimbatore on Wednesday. It has been reported that Vijay's official Twitter fan page tweeted that the actor felt privileged to be invited by Modi to a non-political meeting, and he is looking forward to the interaction with the BJP PM nominee.
Modi has already met superstar Rajinikanth in Chennai, where he (Modi) addressed an election rally on 13 April.
(Ed: VP)