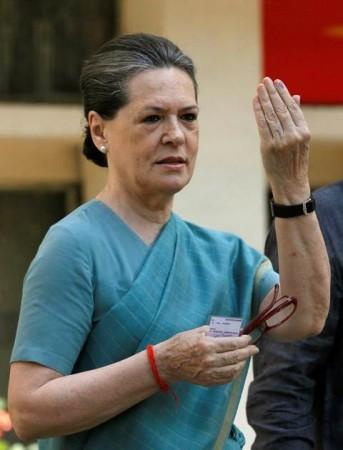 Claiming that only Congress can develop Telangana, the party president Sonia Gandhi on 27 April stated that if her party is voted to power, development projects worth ₹40,000 crore would be implemented for the region, say media reports.
A new state of Telangana from Andhra Pradesh is going to be created on 2 June 2014.
Sonia wrapped up her campaign in Telangana region on Sunday with the public meeting in Andhole. In Telangana, polling is to be held to both Lok Sabha and the State Assembly on 30 April.
Sonia did not forget to attack K Chandrasekhar Rao (KCR) of Telangana Rashtra Samiti (TRS). She reiterated her blame on KCR for not merging TRS with Congress soon after the bill was passed in the Parliament. She said that KCR is only struggling to fulfill his selfish ends and described his politics as opportunistic.
Though KCR is claiming credit for Telangana state achievement, the TRS leader was not present in the Parliament when the historic AP Reorganisation Bill was being discussed, Sonia slammed. She alleged that KCR is utilising Telangana movement and TRS for his personal benefits.
Sonia also said that revenue generated in Hyderabad would go to the new Telangana state only.
YSRCP president YS Jaganmohan Reddy visited Mahabubabad in Warangal district on Sunday, after four years and addressed the voters there. He reminded them on the popular welfare schemes launched by the government during the reign of his late father YS Rajasekhar Reddy as the State Chief Minister. Jagan claimed that if he becomes the CM of Seemandhra, he will not neglect Telangana region and added that the welfare schemes launched by the late CM would be implemented in Telangana as well.
As the Election Commission has notified all political parties in Telangana to stop canvassing by Monday, 28 April at 4 pm, the main parties like BJP-TDP alliance, TRS, Congress, YSRCP are hurrying their campaigning.
TDP, Jana Sena chiefs - N Chandrababu Naidu and Pawan Kalyan have scheduled to address a joint rally in Gajvel of Medak district on Monday.
KCR has scheduled to participate in a public rally in Mandamarri of Adilabad district on Monday. KCR will also address Srirampur-Chennur rally in Manchiryala and Wargal rally in Medak district in Telangana on the same day.
BJP's national leader M Venkaiah Naidu has scheduled to address poll rallies in Nellore district at Podalakur, Gudur, Venkatagiri and Soollurpet on the same day.
Congress Campaign Committee Chairman of Seemandhra, K Chiranjeevi will address election rallies at Chirala, Parchur and Santanootalapadu in Telangana area on Monday. The party national leader and AP in-charge Digvijay Singh will address a rally at Hirabad in Medak district. Another national leader of Congress Gulam Nabi Azad is to address campaign rally at Siddipet in Medak district and Janagama rally in Warangal district on Monday.
(Ed:AJ)