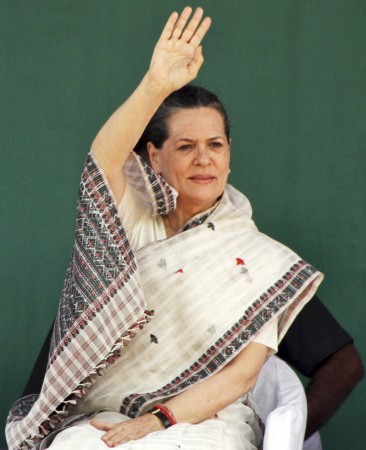 Congress party president Sonia Gandhi on 2 April filed her nomination from Rae Bareli Lok Sabha constituency in Uttar Pradesh. She was accompanied by son Rahul Gandhi, who is the party vice-president and Amethi candidate, as she subitted her nomination papers to the returning officer. Several Congress leaders also accompanied Sonia while she filed the nomination.
Sonia, 62, is seeking re-election from the constituency for the third time. She was elected to Lok Sabha from the same constituency in 2004 but resigned over the controversy of office-of-profit and was again elected from there in the 2006 by-election.
Earlier in the day, before filing nomination, she arrived in Rae Bareli to a rousing welcome from Congress supporters. She then performed a puja at the local Congress office.
Amethi has been the bastion of the Nehru-Gandhi family. Sonia's mother-in-law Indira Gandhi had won from the same Rae Bareli constituency in 1967, after the demise of husband Feroze Gandhi. Sonia got elected to the Lok Sabha from both Amethi and Bellary (Karnataka) Lok Sabha constituencies simultaneously in 1999. In Bellary, Sonia defeated Sushma Swaraj of BJP, when SM Krishna was the Chief Minister of Karnataka state.
After filing her nomination, Sonia told the media: "The people of Rae Bareli have adopted me with immense affection and I hope they will make me victorious again in the election," The Hindu quoted her.
Rahul, on the same day, received praise from estranged cousin Varun Gandhi of BJP for the former's good work on women empowerment. Varun is the son of Maneka Gandhi and Sanjay Gandhi. Sanjay was the younger brother of Rajiv Gandhi, the father of Rahul.
Varun, a BJP Lok Sabha candidate, was speaking at a gathering of teachers in Sutanpur on 1 April. He said that Rahul is doing good work through his self-help groups to improve women's status in the Amethi constituency. Rahul, who was in the company of his mother Sonia in Rae Bareli, reciprocated to Varun's appreciation. Rahul said that he is happy about receiving appreciation from Varun, and added that he will continue the good work in agriculture and education fields.
Meanwhile, BJP's prime ministerial candidate and Gujarat Chief Minister Narendra Modi urged the electorate to give ample majority to the National Democratic Alliance (NDA) to establish a strong and stable government. He was canvassing for the party in Uttar Pradesh's Bareilly. He appealed to the country's voters to give NDA a majority of 300 seats in the Lok Sabha, which has a total of 552 seats.