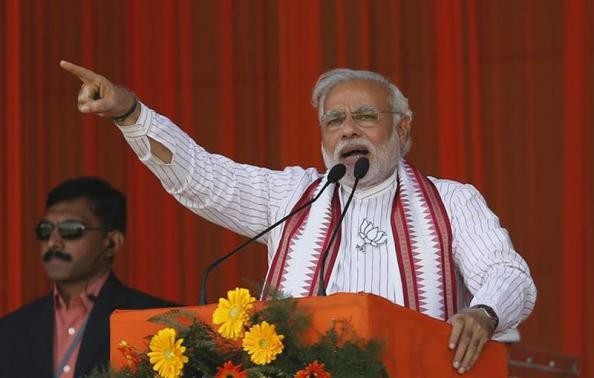 If the National Democratic Alliance (NDA) is voted to power, country's drought-hit regions like Rayalaseema in Andhra Pradesh will be developed into a rich agriculture belts through irrigation projects by linking Ganga-Cauvery and other rivers, said Bharatiya Janata Party (BJP) prime ministerial nominee Narendra Modi in Madanapalle on 1 May. Linking rivers in the country for irrigation is the dream of former prime minister Atal Bihari Vajpayee, he added.
Before reaching Madanapalle, Modi visited Sri Venkateswara Swamy (Balaji) Temple at Tirumala hill town in the morning along with his party's senior leader M Venkaiah Naidu, TDP chief N Chandrababu Naidu, Jana Sena founder and actor Pawan Kalyan, and others. The Gujarat Chief Minister addressed a late night rally at Tirupati on 30 April and stayed at Tirumala.
In Seemandhra, Modi was scheduled to address five public rallies in a whirlwind tour on Thursday. Modi appealed to the electorate in Seemandhra to vote NDA to power at the Centre and TDP-BJP alliance in the state. He promised to turn the Seemandhra into "Swarnandhra" (a prosperous state).
Recalling the days of TDP founder late NT Rama Rao, Modi said that NTR used to launch any popular programmes from Tirupati only.
If Ganga and Cauvery are linked, Seemandhra will progress well as river irrigation will help them to cultivate in their lands, he said. If he becomes the next Prime Minister, Modi said that he will ensure maximum support to farmers for their agricultural production. He urged the people in Seemandhra to vote all 25 Lok Sabha candidates of TDP-BJP alliance to win, so that the NDA government will be formed at the Centre.
Madanapalle in Andhra Pradesh is the place where Rabindranath Tagore translated India's national anthem into English, Modi recalled.
Telugu Desam Party (TDP) president N Chandrababu Naidu described TDP-BJP alliance as the historic requirement for Seemandhra's development. He assured to write-off farmer loans if the TDP-BJP alliance is voted to power in Seemandhra and the NDA at the Centre.
Pawan Kalyan continued his tirade against the Congress high command and accused Congress chief Sonia Gandhi and vice-president Rahul Gandhi for dividing the united Andhra Pradesh into Telangana and Seemandhra. BJP's Rajampet Lok Sabha candidate and daughter of late NT Rama Rao, D Purandeswari was also present on the dais.