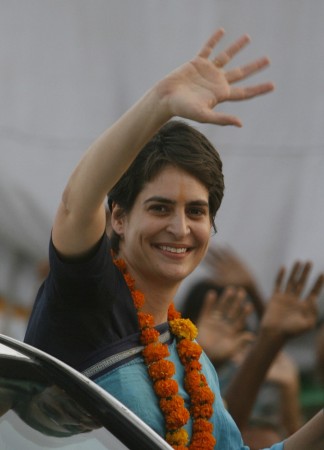 Priyanka Vadra on 25 April accused Bharatiya Janata Party (BJP) prime ministerial candidate and Gujarat Chief Minister Narendra Modi of giving away thousands of acres of land to his friends at throwaway prices.
She was campaigning for her mother Sonia Gandhi in the Rae Bareli Lok Sabha constituency in Uttar Pradesh. Modi and BJP had accused Priyanka's husband Robert Vadra of amassing land properties with the help of Congress, which leads the UPA government at the Centre.
Priyanka, daughter of late former Prime Minister Rajiv Gandhi, demanded Modi to tell people what he has planned to do, if he becomes the next PM of India. She questioned Modi's much-touted Gujarat model of development. She asked Modi to explain the situation of farmers and workers in his home state, and what has he done for women in the state.
"If you want to strengthen the public then tell us what you have done for women," PTI quoted Priyanka. She started to attack BJP and Modi after her husband Vadra came under the opposition parties' attacks. BJP had alleged that Vadra has amassed wealth and land properties with the political mileage of the Congress-led UPA government, where his mother-in-law Sonia is the Chairperson.
In another development, the Enforcement Directorate (ED) charge-sheeted former Union Telecom Minister A Raja and MP Kanimozhi, both of Dravida Munnetra Kazhagam party, in the 2G spectrum allocation scam.
The ED also chargesheeted 17 other persons in connection with the same money laundering case. They include DMK chief M Karunanidhi's wife Dayalu Ammal, Swan Telecom promoters Shahid Usman Balwa and Vinod Goenka. The chargesheet accused that Swan Telecom promoters paid ₹200 crore bribe to DMK-run Kalaignar TV. The accused are shareholders in the TV company.
The CBI court, which took up the ED's chargesheet, fixed 30 April for further hearing. It is said that the ED has found evidence with regard to channeling of the bribe amount ₹200 crore from Swan Telecom to the DMK-owning Kalaignar TV for the frequency allocation licenses at cheap price by the Union Telecom Department, when Raja was the minister.
(Ed: VP)