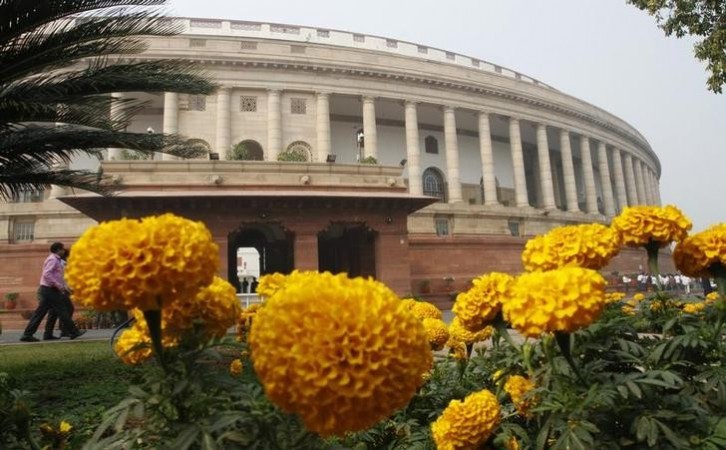 The first part of the nine-phase polling for India's Lok Sabha election 2014, along with the simultaneous elections to assemblies in a few states, will begin on 7 April, 2014. Assam and Manipur will go to polls on Monday, 7 April. The elections are scheduled from 7 April to 12 May. Counting of votes will be on 16 May.
In this Lok Sabha election, BJP-led National Democratic Alliance (NDA) is favoured over the ruling Congress-led United Progress Alliance (UPA), according to some pre-poll surveys. BJP's Narendra Modi was named as the prime ministerial candidate and he has been campaigning rigorously, seeking clear majority for the alliance.
Modi, projecting Gujarat's development under his three-term tenure as Chief Minister, is focusing on the country's economy and development in his campaign. Senior BJP leader LK Advani is also backing Modi and says if he (Modi) becomes the next Prime Minister, he will implement the Gujarat model of development throughout the country.
Congress president Sonia Gandhi and her son and party vice president Rahul Gandhi are also canvassing countrywide. Both are attacking BJP's "divisive" politics and the 2002 communal riots in Gujarat, when Modi was the CM.
Aam Aadmi Party (AAP) is a new entrant in this general election. AAP convener Arvind Kejriwal is also campaigning nationwide on the plank of the party's fight against corruption.
Apart from Congress, BJP and AAP, regional parties like AIADMK and DMK in Tamil Nadu, TDP, TRS and YSRCP in Andhra Pradesh, Trinamool Congress in West Bengal, Bodoland Peoples Front, Asom Gana Parishad, Janata Dal (United), RJD and Lok Janashakti Party in Bihar are also contesting.
On Monday, 7 April, five constituencies in Assam and one constituency in Manipur will go to polls. The five constituencies in Assam are Tezpur, Kaliabor, Jorhat, Dibrugarh and Tripura West constituency. In these constituencies, campaigning had come to an end on Sunday and candidates were seen doing door-to-door canvassing.
Following is the state-wise polling schedule during April and May 2014.
Andhra Pradesh: 30 April, 7 May
Arunachal Pradesh: 9 April
Assam: 7, 12, 24 April
Bihar: 10, 17, 24, 30, April and 7, 12 May
Chhattisgarh: 10, 17, 24 April
Goa: 17 April
Gujarat: 30 April
Haryana: 10 April
Himachal Pradesh: 7 May
Jammu and Kashmir: 10, 17, 24, 30 April and 7 May
Jharkhand: 10, 17, 24 April
Karnataka: 17 April
Kerala: 10 April
Madhya Pradesh:10, 17, 24 April
Maharashtra: 10, 17, 24 April
Manipur: 9, 17 April
Meghalaya: 9 April
Mizoram: 9 April
Nagaland: 9 April
Odisha: 10, 17 April
Punjab: 30 April
Rajasthan: 17, 24 April
Sikkim: 12 April
Tamil Nadu: 24 April
Tripura: 7, 12 April
Uttar Pradesh: 10, 17, 24, 30, April and 7, 12 May
Uttarakhand: 7 May
West Bengal: 17, 24, 30 April and 7, 12 May
Andaman and Nicobar Islands: 10 April
Chandigarh: 10 April
Dadra and Nagar Haveli: 30 April
Daman and Diu: 30 April
Lakshadweep: 10 April
NCT/Delhi: 10 April
Puducherry: 24 April