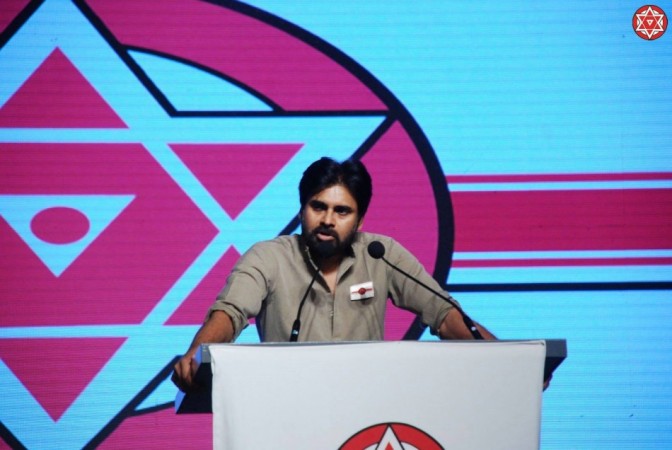 Jana Sena's founder and Tollywood's Power Star Pawan Kalyan has begun praising Narendra Modi in his fight to oust Congress.
Naming the prime ministerial candidate of Bharatiya Janata Party (BJP) in Raichur election rally on 15 April 2014. Explaining about Modi's personal qualities like experience in state administration and politics, Pawan stressed the need of electing candidates like Modi.
Pawan said that he strongly believes that Modi is the only powerful leader in India to lead the nation in a right way and that's why he is supporting the BJP's top leader. Modi has sacrificed all his life for the country, Pawan added. He was addressing an election gathering organised for BJP's candidate Shivanna Gowd in Raichur.
Pawan Kalyan is canvassing for BJP candidates in Karnataka on 15 April 2014. With this, BJP is going to reap the actor's vast popularity in Karnataka.
Pawan was scheduled to campaign for BJP in Raichur, Kolar and Gulbarga, which have huge population of Telugu-speaking people. BJP has invited Pawan to campaign in these Lok Sabha constituencies.
As per media reports, poll campaign itinerary of Pawan was like this:
On Tuesday, early in the morning, the star will leave for Raichur straight from Hyderabad by a special helicopter.
During the day, he will campaign on behalf of BJP's reserved category candidates in Raichur, Kolar and Gulbarga.
At 9 am, he will start canvassing for BJP's Raichur candidate Shivanna Gowd (Scheduled Caste). From 12.30 pm, he will campaign for BJP's Kolar candidate Ramanarayana Swamy till 2 pm. From Kolar, Pawan will proceed to Gulbarga by 3.30 pm to campaign for Revu Naik Belangi till 5 pm, says a press release issued by Jana Sena party office.
Jana Sena's convenors are coordinating Pawan's campaign in the three locations in Karnataka.
On Monday, BJP's representatives, along with the Telangana unit president Kishan Reddy met the actor-turned politician in Hyderabad and discussed about campaign plans. Pawan is said to have shared his points of campaign such as people's welfare of both areas of AP - Seemandhra and Telangana.
Meanwhile, Pawan Kalyan's divorced wife Renu Desai has praised him. She stated that society needed good persons like Pawan, who is fighting for the welfare of the society. She extended her full support to Pawan and his party.
Pawan Kalyan's eldest brother and Union Tourism Minister K Chiranjeevi campaigned on behalf of his colleague in the Union Cabinet, M. Veerappa Moily of Congress in Chikkaballapur constituency on Monday. The constituency has considerable Telugu population and the actor's campaign is believed to give a boost to Moily's chances of winning. Chiranjeevi addressed in key pockets like Yelahanka in the constituency during the day.
In Andhra Pradesh, an NDTV conducted opinion poll has predicted that Telugu Desam-BJP group will get 15 Lok Sabha seats in Seemandhra out of 25. The survey said that Jagan Mohan Reddy-led YSRCP may get nine Lok Sabha seats and Congress is awaited to get just one Lok Sabha seat, the survey said. It added that in Telangana, where there are 17 Lok Sabha constituencies, Telangana Rashtra Samiti (TRS) will get eight seats, Congress five and three for BJP-TDP combine.
Photo credit: Facebook/ Jana Sena Party
(Ed: AJ)