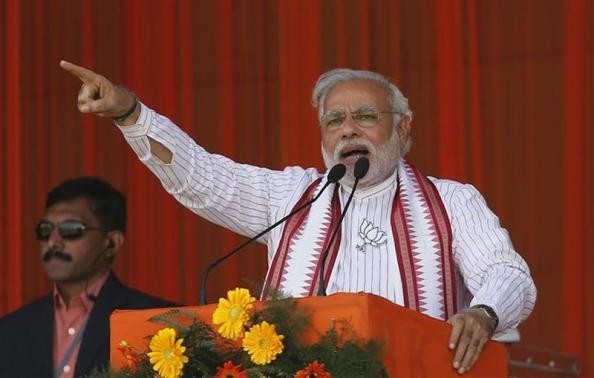 Bharatiya Janata Party (BJP) prime ministerial candidate Narendra Modi has been scheduled to meet popular actor Rajinikanth in Chennai on 13 April. The meeting is supposed to take place before the 5pm election rally in the city.
The BJP is hoping to improve further its position in South India in general, and Tamil Nadu in particular, as it has already aligned with six regional parties in the state in this Lok Sabha election. BJP has only a marginal base in TN and it is now pulling out all stops to expand further in the state. The party has already got into a pre-election alliance with N Chandrababu Naidu-led Telugu Desam Party (TDP) in Andhra Pradesh.
Two popular Telugu actors - Akkineni Nagarjuna and Pawan Kalyan - have publicly expressed their support to Modi being the next Prime Minister of India. BJP, which formed its first state government in Karnataka in 2008 under Chief Minister BS Yeddyurappa, is striving a lot to spread itself further in the south Indian states.
According to BJP's national general secretary P Muralidhar Rao, Modi is likely to meet Rajinikanth before the election rally and the high profile meeting has been dubbed as "personal". The Modi-Rajini meeting is expected to have an impact on the position of the BJP-headed National Democratic Alliance (NDA) in Tamil Nadu. In March 2011, DMK's MK Stalin, the then-Deputy Chief Minister of Tamil Nadu, met Rajinikanth, seeking support for his party in the state Assembly election.
Rajinikanth has a huge fan following in Tamil Nadu and other South states. Though Rajinikanth has dodged a straight entry into politics, it is said that his fans have been pressing him to enter politics and launch his own party like the late NT Rama Rao. The Tamil superstar only dabbled with politicians in south India, than launching his own party or joining any other party. Rajinikath has told his fans several times that only movie excites him as a career, not politics.
Rajini's films have done well in recent years. The latest film from Rajinikanth set to be released soon is "Kochadaiiyaan". It is the actor's daughter Soundarya's directorial debut.