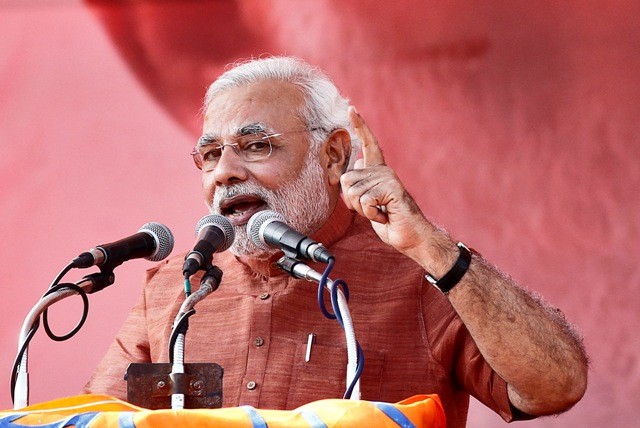 Declaring that no strings are attached to their meeting at this juncture of general elections, Bharatiya Janata Party (BJP) prime ministerial candidate Narendra Modi and superstar Rajinikanth exchanged cordial wishes in Chennai on 13 April 2014. Modi rode straight to Rajinikanth's Poes Garden residence from Chennai airport before addressing a poll campaign in the city.
For Rajinikanth, Modi's visit might be apolitical, but it matters a lot for BJP, as it is contesting this general election in alliance with a group of five regional parties - DMDK, PMK, MDMK, IJK and KMDK- in the state. Popular Tamil actor and DMDK leader Vijayakanth is leading the group in campaigning.
After their meeting for a half-an-hour, Rajinikanth told the media that they did not discuss anything related to politics.
Rajinikanth described Modi as a strong leader and an able administrator. He wished Modi all success in his endeavours. "When I was not well he (Modi) called on me and every week he inquired about my health. I invited him for a meeting over a cup of tea and I am happy he has visited me," The Hindu quoted Rajinikanth.
Modi, clad in a dhoti-shirt, the traditional attire of Tamil Nadu, said that Rajinikanth is a good friend and well-wisher to him. The Gujarat Chief Minister also expressed his wishes to people of Tamil Nadu on the occasion of Tamil New Year Day on 14 April 2014.
While Rajinikanth has grown into a super star actor from the humble background of a bus conductor in the erstwhile Bangalore Transport System (BTS) in Bangalore, Modi was a tea vendor in Gujarat.
Modi's meeting with Rajinikanth gets prominence as the election to Lok Sabha is going to be held on 24 April in Tamil Nadu and his party is aspiring to expand further in the state with an electoral tie-up with a front of five regional parties.
(Ed: AJ)