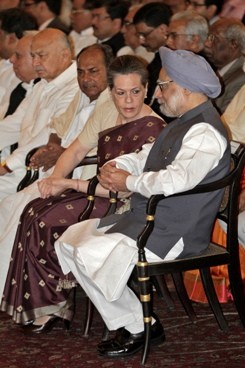 Congress president Sonia Gandhi on 24 April accused Narendra Modi, the prime ministerial nominee of Bharatiya Janata Party (BJP), as mere power hungry, and also claimed that Modi's Gujarat government's debt stands at ₹1.75 crore.
The United Progressive Alliance (UPA) Chairperson was addressing a well-attended election campaign rally for the first time in this Lok Sabha elections in Modi's home state Gujarat, at Valsad. She said that Modi claims if he comes to power, he will transform the country into a heaven (swarg). But the state's Chief Minister was not telling the truth about the difficulties faced by the people in his own state, she stressed.
Without taking Modi's name, Gandhi said that villages in Gujarat are facing hardships for drinking water. Every second child in the state, below the age of five years, was malnourished, and the school dropout rate was also on the rise in Gujarat, she said.
Gandhi alleged that Modi is interested only about his chair and not about the welfare of the poor people. She said that the Gujarat Government does not consider the people who earn ₹11-a-day as poor. She said BJP has crossed the limits of corruption.
Meanwhile, Prime Minister Manmohan Singh, who cast his vote in Assam's Dispur on Thursday, said that there is no Modi wave in the country, and it is only the creation of the media. Singh had registered his name as a voter in Dispur. 11 states went to polls in the sixth phase of the election during the day.
Singh had said back in January that it would be disastrous for the country to have Modi as PM as a mass massacre had taken place on the streets of Ahmedabad with his (alleged) support.
The Indian Prime Minister has been described as the head of the government without a direct control over it. Two bureaucrats, close to Singh's office, have written books and said that he (Singh) was being remote-controlled by Gandhi.
(Ed: VP)