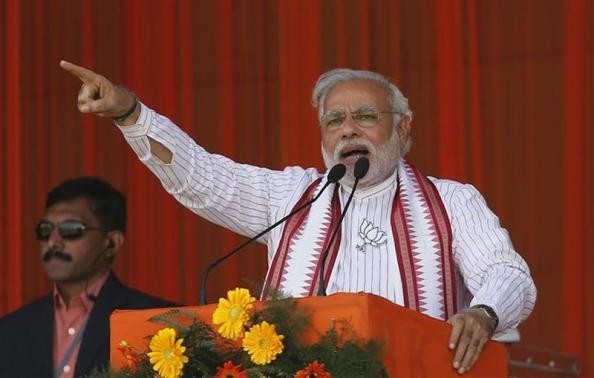 Bharatiya Janata Party (BJP) prime ministerial candidate and Gujarat Chief Minister Narendra Modi on 9 April 2014 filed his nomination from Vadodara amid pomp and gaiety. Vadodara in his home state is one of the two constituencies Modi is contesting in the ongoing elections to Lok Sabha.
In Gujarat, the election is to be held on 30 April. In Varanasi (Uttar Pradesh), which is the second Lok Sabha seat Modi is contesting, the election will be held on 12 May.
In the morning, a four-km road show, "Vijay Vishwas" was held from the city's airport to the Vadodara Collectorate to submit nomination papers by Modi. Thousands of people welcomed Modi and watched him enthusiastically all along the route till the collectorate.
Strong police security was in place for Modi's road show and the entire route was barricaded to control the onlookers and all the shops were seen closed.
The Gujarat Chief Minister appealed to the electorate to participate in voting to make BJP victorious and thanked the people of Vadodara for their grand welcome.
Modi promised a good governance, recalled his links with Vadodara and conversed with the media briefly at the collectorate after filing the nomination.
For the 63-year-old Modi, this was the first visit to Vadodara after he opted to contest in the election from this city.
Modi's candidature was symbolically proposed by a tea vendor Kiran Mahida and Vadodara city's royal family member Shubhanginidevi Raje-Gaekwad.
In Varanasi, Congress's candidate Ajay Rai and Aam Aadmi (AAP) Convenor Arvind Kejriwal are in the fray to take on Modi. Rai is the local MLA and Kejriwal is a former Delhi Chief Minister. In Vadodara, Congress has pitted Madhusudhan Mistry and the AAP has fielded Sunil Kulkarni against Modi. Kulkarni belongs to Nashik and is an activist of Anna Hazare's Jan Lokpal movement.