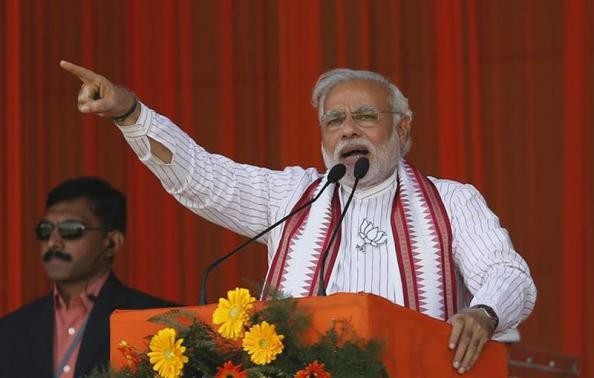 Bharatiya Janata Party's (BJP) prime ministerial candidate Narendra Modi on 24 April filed his second nomination to Lok Sabha from Varanasi constituency.
A huge road show preceded his nomination. Modi travelled in an open truck to reach the returning officer to submit his nomination papers.
He is contesting from both Varanasi and Vadodara in Gujarat, his home state, of which he is the Chief Minister.
Responding to the crowd at the road show, Modi said that he felt as if 'mother Ganga' has called him to contest from the country's spiritual city. He had already filed his nomination from Vadodara constituency.
Prior to filing the nomination, Modi told reporters that state-of-the-art tourist and infrastructure facilities will be created for Varanasi.
He expressed his commitment to clean Ganga river and maintain cleanliness in the holy temple city of India. He vowed to develop Varanasi into a spiritual capital of the world.
Modi also said that he will make the weavers of Varanasi become India's pride at world level. Varanasi's "Banaras sarees" are very famous silk fabrics.
"Earlier I used to think that the BJP has sent me here, sometimes I felt that I am going to Kashi. But after coming here, I feel neither has anybody sent me nor have I come on my own. It is Mother Ganga who has called me. And the way a child feels when he is back in his mother's lap, the same way I feel here," The Hindu quoted Modi.
On the two-kilometre road show, thousands of people lined up in sweltering heat and showered flower petals on Modi. En route the rally, Modi paid his obeisance to the 'Iron Man' of India Sardar Vallabhbhai Patel, the late freedom fighter and India's first Home Minister.
Modi is contesting the Lok Sabha elections for the first time to enter national politics. In Varanasi, Modi is to fight Aam Aadmi Party (AAP) convenor Aravind Kejriwal, who filed his nomination on Wednesday.
(Ed: VP)