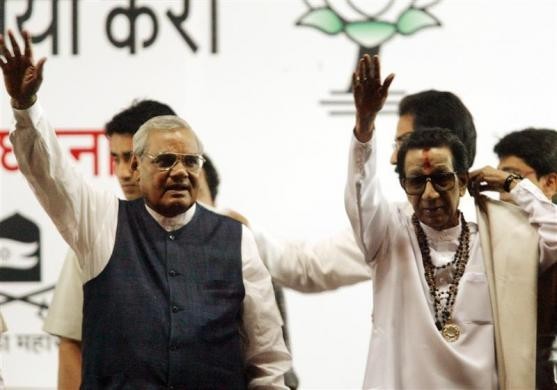 Slamming Congress for kindling Narendra Modi's marital issue, Shiv Sena in Maharashtra has advised the grand old Indian political party to first marry off its vice-president Rahul Gandhi and then talk about the BJP prime ministerial candidate's marriage.
Shiv Sena is a right-wing political party and a partner in the BJP-led National Democratic Alliance (NDA). The party, in an editorial of its mouthpiece Saamana, bashed up Congress on 14 April for complaining to the Election Commission (EC) against Modi for hiding his marriage with Jashodaben and not mentioning the same in the earlier election nomination papers. Modi is BJP's PM nominee and he has, for the first time, revealed in his nomination paper that Jashodaben is his wife.
"First get the Congress vice-president Rahul Gandhi married and then raise questions about Narendra Modi's marriage," The Hindu quoted the editorial of Shiv Sena's mouthpiece. Sena founder and firebrand leader the late Bal Thackeray used to write the editorials effectively to express the party's stand on contemporary issues.
The editorial further stated that if Congress feels that it can drag Modi into legal tangles by complaining to the EC about his marital issue, then the party is living in a fool's paradise. Why is the Congress trying to make it an issue when Jashodaben has not made any complaint on Modi, the editorial asked.
In retaliation, the Sena mouthpiece said that if Congress was so concerned about Jashodaben, it should take up the issue of its union minister Shashi Tharoor, whose wife Sunanda Pushkar died in a mysterious conditions earlier this year.
Shiv Sena further stated that Congress has no moral right at all to take up women issues when several of its leaders were accused of committing violence against women.
The editorial endorsed Modi's family members' statements on Jashodaben's marriage with the Gujarat Chief Minister. The couple decided to split as the husband (Modi) wanted to become an RSS worker, it said. The newspaper likened Modi's marital life to that of saint Swami Ramdas, who ran away in the middle of his wedding rituals to sacrifice his life to the society.
The editorial also questioned how Modi's marital matter will solve issues of price rise and corruption. "Will it help the common man?" it asked. Congress is raising the marital issue of the BJP PM nominee only to hush up its (Congress') failures and divert people's attention from them, the daily stressed.
(Ed: VP)