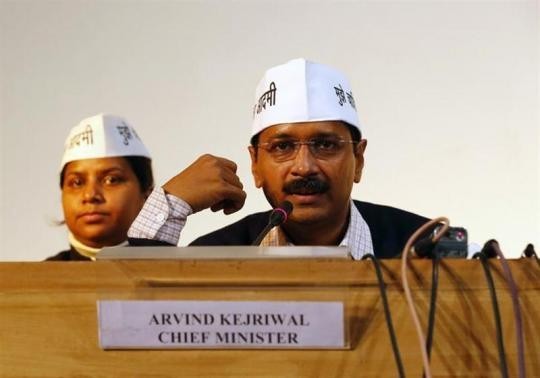 Aam Aadmi Party (AAP) national convenor Arvind Kejrival on 26 March rebutted Narendra Modi's allegations that he is helping Pakistan.
Modi, in his election campaign at Hiranagar - close to the India-Pakistan international border, also called Kejriwal "AK 49", referring to his tenure as Delhi Chief Minister for 49 days.
Kejriwal responded that Modi was avoiding debate on development issues and controversial matters in Gujarat, of which Modi is Chief Minister.
Regarding Modi calling him as "AK 49", Kejriwal said such language and comments would not suit a prime ministerial candidate. Kejriwal is set to take on Modi in Varanasi, Uttar Pradesh as the AAP candidate for the Lok Sabha elections 2014.
Addressing the election rally in Hiranagar, Modi said: "There are three AKs in Pakistan who are being admired. AK 47, AK Antony (Indian defence minister) and AK 49. This third one, AK 49, has just launched a political party. This AK 49 on his website shows Kashmir as a part of Pakistan. His close aide wants a referendum on Kashmir, and Pakistan is jumping with joy," Hindustan Times quoted Modi.
This is the first time that Modi has levelled a tirade on Kejriwal, after he announced his readiness to contest against him in Varanasi. Taking on Modi, Kejriwal tweeted that the Gujarat Chief Minister was avoiding a debate on developmental issues pertaining to Gujarat.
Kejriwal alleged Modi is supporting corrupt individuals to contest the ensuing Lok Sabha polls. The AAP leader asked Modi why he (Modi) is silent on gas price hike. Modi is refusing to talk on farmer issues in Gujarat, he added.
Earlier in the day, the Modi-headed Gujarat government pooh-poohed all allegations made by Kejriwal in Varanasi on 25 March.
The AAP convenor said that Modi has turned into a representative of industrialists and corporate houses. The development in Gujarat has been exaggerated, he added. He said there is no difference between Modi and Congress vice-president Rahul Gandhi, who is contesting from Amethil in Uttar Pradesh. He called up on people to defeat both Gandhi and Modi and give a shock to both UPA and NDA alliances.
On Tuesday, when Kejriwal was coming out from the temple of Kashi Vishwanatha in Varanasi, protestors splattered ink on him, blackening his face and clothes. They also threw eggs at him, waved black flags and shouted anti-AAP slogans. Police arrested the man who spattered ink at Kejriwal. The man has been identified as Ambrish, a member of Hindu Vahini Sena.