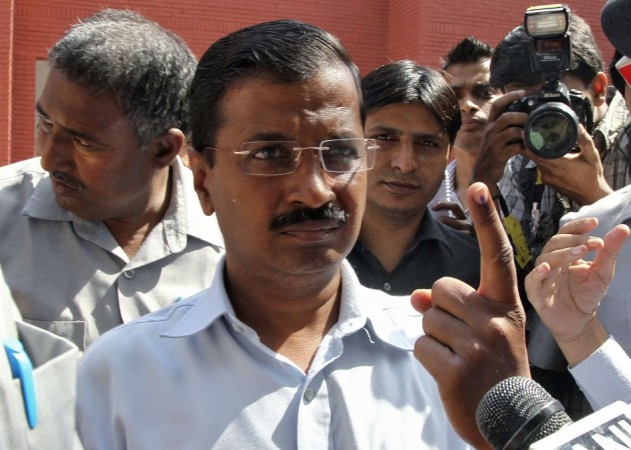 Aam Aadmi Party (AAP) convenor Arvind Kejriwal on 23 April accused both Congress and Bharatiya Janata Party (BJP) of allegedly spending black money lavishly on election campaigning.
Kejriwal filed his nomination to Lok Sabha election from Varanasi in Uttar Pradesh to take on BJP's prime ministerial candidate Narendra Modi. Modi, who has filed his nomination already from Vadodara, is to file his second nomination from Varanasi on Thursday.
Stating that he does not have such huge funds, except a ₹500 note in his pocket to spend on campaigning, Kejriwal alleged that Modi and Rahul Gandhi, the Congress candidate from Amethi, have been spending thousands of crores in this election.
"I have heard that Modi has spent ₹5,000 crore, and Rahul spent ₹10,000 crore in election campaign. This is black money, and those who are investing such a big amount of money in election campaign will collect ₹5 lakh crore from common man's pocket after election," The Times of India quoted Kejriwal.
The AAP leader said that he has roamed around the Varanasi constituency and observed the problems of the people. He highlighted the issues of weavers in Varanasi, noted for its Banarasi sarees, polluted Ganga river and pathetic condition of roads in the city. Kejriwal had arrived in a huge rally to file his nomination in the spiritual city of India.
Meanwhile in Mumbai, India's biggest city, tight police security has been in place for the 24 April polling. About 48,000 policemen have been deployed to the election security in the financial capital of India.
The authorities have set up 9,879 polling booths in the city. Among them, 291 have been classified as sensitive booths and 33 have been identified as vulnerable. As a precautionary measure, 14,860 suspected individuals have been taken into preventive custody in the city since 5 March. Taking directions from the Election Commission, the police have seized 50 illegal weapons and impounded 1,564 licences of weapons, the Mumbai police revealed.
(Ed: VP)