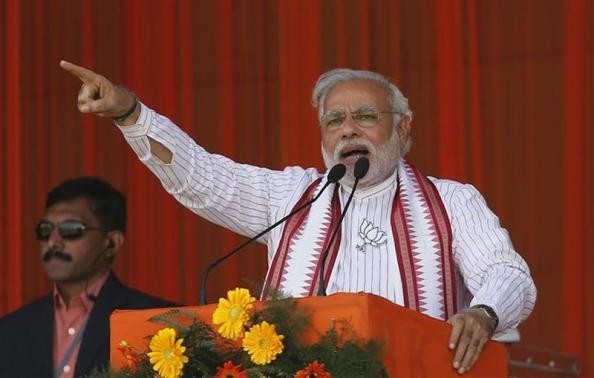 The Ahmedabad City Crime Branch has filed two first information reports (FIRs) against Bharatiya Janata Party (BJP) prime ministerial nominee Narendra Modi on 30 April for his alleged violation of election law and model code of conduct.
The police acted against the Gujarat Chief Minister as per the Election Commission's diktat, say media reports. The EC's action follows against Modi for his media conference held immediately after he cast his franchise in Ahmedabad.
Soon after casting his vote, Modi proudly displayed his party symbol, Lotus to the media glare, beamed across national TV channels.
This triggered the Congress to file a complaint against Modi, demanding the EC for an action against Modi.
The EC said that Modi, by flashing the Lotus symbol and holding the media conference soon after exercising his franchise amounts to violation of Sections 126 (1) (a) and 126 (1)(b) of Representation of people Act, 1956, which attracts two years of imprisonment.
Gujarat Director General of Police, PC Thakur said that they have complied with the EC's order. The EC has also asked the police to take action against those who conducted the media conference and the electronic media for carrying and displaying the meeting's procedure to the public. As per the Section 126 (1) and (b), public meetings are prohibited within 48 hours of polling.
Meanwhile, the seventh phase of the ongoing election to the Lok Sabha, and few state Assemblies, ended peacefully in seven states and two Union Territories. In Gujarat, to which the BJP's PM hopeful candidate Narendra Modi is the Chief Minister, 62.4 percent of voter turnout was recorded. Gujarat had recorded the highest voter turnout of 64 percent in 1967.
In Telangana, which is scheduled to become the 29th state of India on 2 June, recorded a voter turnout of 68 percent by 5 pm.
(Ed:AJ)