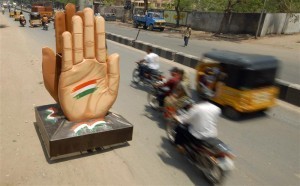 Congress hopes to emerge as the single largest party in the ongoing Lok Sabha elections, by winning at least 120 seats. The ruling UPA government at the Centre is headed by the Congress.
However, in the ongoing general election, the party has been hit by a strong anti-incumbency factor, with the series of scams that took place in its tenure. A pro-Narendra Modi wave is also seen working against the party.
In the existing scenario, Congress feels that it could win 120 seats to form a non-NDA government at the Centre, with the support of Third Front constituents, say sources in Congress. So far, five phases have been completed in the nine-phase Lok Sabha election in the country.
For Congress, the sixth phase polling is crucial, which is to be held on 24 April. Andhra Pradesh, Uttar Pradesh, Maharashtra and other states, where Congress has considerable strength of MPs in the current parliament, will go to polls now. The election results will be out on 16 May. The party is mobilising all its efforts to do well in the remaining four phases of election. Congress vice-president Rahul Gandhi and his team are said to be overseeing the smooth flow of funds to candidates, who have winning chances.
On the other hand, CPI (M), one of the key partners of Third Front, has ruled out the possibility of Congress forming the next government at the Centre, with the support of Third Front. CPI (M) General Secretary Prakash Karat on 20 April claimed that the country-wide anti-incumbency wave will benefit only the Third Front to garner more seats. The anti-incumbency wave among electorate will not help BJP, Karat added.
Karat told the media in Ludhiana on Sunday that the Congress cannot get the seats required to form the next government at the Centre. When asked if the Third Front would support the Congress to help it form a secular government, Karat shot back and said that it is for the Congress to support Third Front to form a non-NDA government.
(Ed: VP)