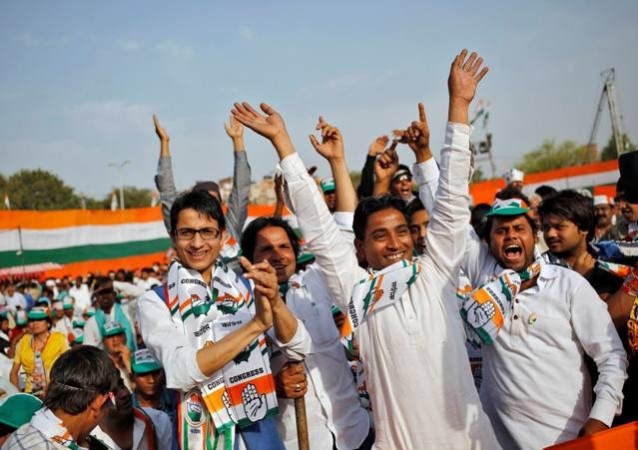 Congress on 8 April fielded its candidate Ajay Rai in the Varanasi Lok Sabha constituency, to take on Bharatiya Janata Party's (BJP) prime ministerial candidate Narendra Modi. Rai is a local MLA and has won the Assembly seat five times. He is a Bhumihar by caste, Congress said.
As a Congress candidate, Rai will also have to fight against Aam Aadmi Party (AAP) candidate Arvind Kejriwal. Before joining Congress, Rai was with Samajwadi Party (SP) and BJP.
Congress claimed that Rai has considerable clout in Varanasi, as he is a local, who has contested and won several elections in the past. He is now representing Pindra Assembly constituency.
Rai began his political career with Akhil Bharatiya Vidyarthi Parishat, the students' wing of BJP. He is a graduate from Kashi Vidyapeeth and won the Kolasla (now Pindra) Assembly seat in 1996 by defeating nine-time sitting CPI MLA Udal. Since then he has retained the seat. He left BJP in 2009 as the party "betrayed" him by denying ticket to contest Lok Sabha election, which was in turn was given to Murli Manohar Joshi. Though he joined SP as the party's candidate, Rai was said to have worked for the success of Joshi in the Lok Sabha election to prevent the election of Mukhtar Ansari, then a BSP candidate.
Speculation was rife that Congess would pit one of its senior leaders like Digvijay Singh, Anand Sharma or Rashid Alvi against Modi. Defending its decision to zero in on Rai, Congress described him as the grass roots-level worker. The advantage for Rai is that he is a local candidate and knows the problems of the area, Congress said.
Congress has fielded Narendra Mistry against Modi in Vadodara in Gujarat. Modi is contesting Vadodara seat as well, along with Varanasi in Uttar Pradesh.
Ruling Samajwadi Party in Uttar Pradesh has already fielded its candidate Kailash Chowrasia in Varanasi Lok Sabha constituency.
(Edited by Vanilla Sharma)