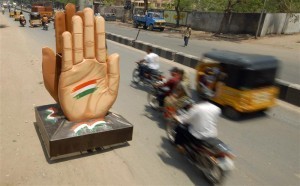 Ajay Rai, the Congress candidate in Varanasi Lok Sabha constituency, faced action by the Election Commission for flashing his party's symbol and talking to media persons at a polling booth on 12 May - the last voting day.
The EC has asked the Varanasi Returning Officer to file a First Information Report (FIR) against Rai for his act of "canvassing" within the limits of the voting booth. Canvassing on the voting day is banned by the EC. Monday's voting in the country was the last day of the election, scheduled in nine phases.
Media reports say that Rai went to the polling booth to vote by wearing his party's symbol - hand - on his kurta.
Special Election Observer Praveen Kumar said that he will examine the CCTV footage of the polling booth, and action will be taken against Rai as per the footage facts. Flashing the party symbol within the polling booth limits is banned, and amounts to violation of Section 130 of the Representation of Peopoe's Act, the officer stated.
Kumar said that a report will be sent to the Election Commissioner once the enquiry is over. The EC sources said that the local administration will also be asked to file a report on the Congress candidate's alleged poll code violation.
Both Bharatiya Janata Party (BJP) and Aam Aadmi Party (AAP) have demanded EC action against Rai. On his part, Rai defended his act by saying that as a candidate of the Congress he has the right to wear the party's symbol.
Narendra Modi, BJP's prime ministerial candidate and the party's Varanasi's candidate, also generated some controversy on 30 April by flashing his party's symbol - lotus - while taking a "selfie" snap in the glare of the media cameras at a polling booth in Gandhi Nagar. Later, he also made a speech after casting his vote, attracting action from the Election Commission.
AAP candidate Aravind Kejriwal has also demanded EC's action against Rai.