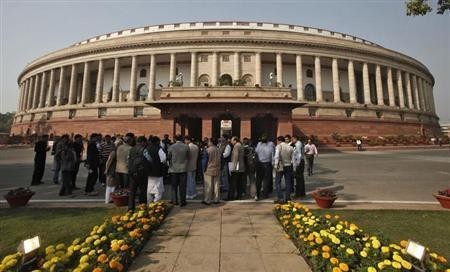 Congress has started campaigning in Seemandhra, with K Chiranjeevi as the campaign committee chairman. Congress is yet to pull up its shocks in the Telangana region, where the K Chandrasekhar Rao-led Telangana Rashtra Samiti (TRS) has declined both merger and poll tie-up with it.
While the Telugu Desam Party (TDP) was on its task to strengthen its position in both Seemandhra and Telangana, Congress leader and Union Tourism Minister Chiranjeevi and Samaikhyandhra party founder Kiran Kumar Reddy were seen attacking each other in their campaign rallies in coastal Andhra Pradesh on 22 March. The duo blamed each other over the state's bifurcation issue.
Several leaders, including some Congress ministers in the state, have joined TDP recently. For Congress in the state, the immediate onus is to fill the vacuum, created by the leaders' defection.
TDP, which has been buoyed by the crossovers of leaders from Congress in Seemandhra, is now concentrating on Telangana. The party is likely to announce its election campaign committee shortly, under the chairmanship of Ravula Chandrasekhar Reddy. TDP has prominent leaders like Errabellin Dayakar Rao, Motkupalli Narsimhulu and Thummala Nageswara Rao in the Telangana region.
In Seemandhra, several prominent Congress leaders like TG Venkatesh, G Srinivas Rao, E Pratap Reddy, G Aruna, S Vijayaramarajau and T Narasimham have joined TDP. And several more Congress leaders are understood to be waiting to join the party. On 23 March, a rally led by TDP's Bangalore IT Forum was held in Anantapuram. The rally stressed the need to bring back the Chandrababu-led TDP into power in AP, to develop the state in all sectors.
Meanwhile, Jana Sena founder and president Pawan Kalyan met BJP's prime ministerial candidate Narendra Modi in Ahmedabad on Friday and expressed his full support to Modi. Pawan is yet to hold another round of discussions with TDP chief Chandrababu Naidu over the proposed grand election alliance, involving TDP, BJP, Lok Satta and Jana Sena. BJP's national leader and spokesman Prakash Javadekar is said to be bargaining with TDP in Hyderabad over the possible poll tie-up and seat-sharing.
Pawan's Jana Sena has organised an election rally in Visakhapatnam on 27 March. Naidu and Pawan are likely to meet and discuss over the electoral alliance and the strategy to follow, prior to Jana Sena's rally in Vizag.