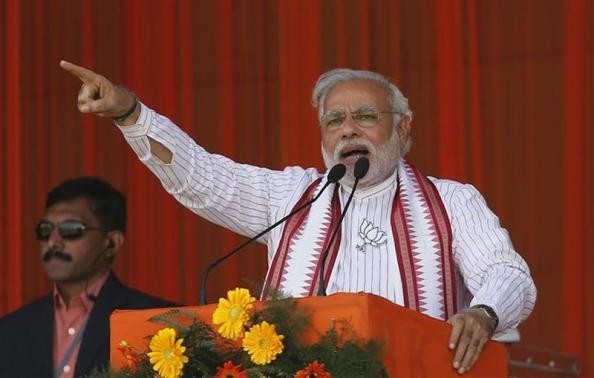 Bharatiya Janata Party (BJP) top leaders - Arun Jaitley, Amit Shah and HN Anantha Kumar on 8 May protested against the denial of permission to hold an election rally in Varanasi's Beniabagh area. The trio was spotted at the gate of the Banaras Hindu University (BHU).
BJP's prime ministerial candidate Narendra Modi was to address the planned rally on Thursday in Varanasi, where election to Lok Sabha is scheduled to be held on 12 May. Modi is contesting from Varanasi in UP and Vadodara in Gujarat. He was also scheduled to address another rally at Rohania area, rural area of the Varanasi constituency.
Media reports also said that police in Delhi imposed prohibitory orders, as a precautionary measure, in around the Election Commission (EC) building area as the BJP workers were supposed to hold protests against the EC's denial of permission for Modi's rally on Thursday.
BJP leaders-M Venkaiah Naidu and Ravi Shankar Prasad met officials of the EC and demanded removal of District Magistrate in Varanasi for not granting permission for a poll rally in time.
In Varanasi, the BJP leaders protested the alleged partisan attitude of District Magistrate (DM) and Returning Officer Pranjal Yadav and demanded the officer's removal. Even before the arrival of Jaitley, Shah and Kumar, BJP workers and the party supporters gathered at the protest venue, adding chaos to the already crowded area of the BHU.
The protestors shouted slogans against the DM and created ruckus and disrupted traffic in the area in the early hours of the day. Rapid Action Force (RAP) personnel were deployed in the area in large numbers.
Shah on Wednesday said that Yadav was playing politics by granting permission for the rally so late and that such a delayed permission would not allow the party to make arrangements.
By delaying the permission for the rally, Yadav was acting at the behest of someone else, he said, adding: "This is a big joke with the people of Varanasi that BJP candidate from here and its Prime Ministerial nominee was not being given permission to hold a rally," PTI reported.
Modi was scheduled to address several rallies and participate in other programmes like Ganga Pujan in Varanasi on Thursday. He was also supposed to participate at a meeting in a hotel, where 100 to 150 prominent citizens of the city were to attend and Ganga Arti, a routine ritual everyday at Ganga Ghat in Varanasi. For all these programmes, it is said, BJP had got the DM's permission. But the DM delayed permission to the Beniabagh rally.
[ED:VS]