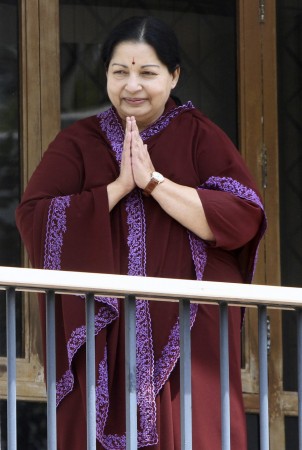 While the Bharatiya Janata Party (BJP) was jubilant as it is very sure of winning a majority in the election when the votes will be count on 16 May, Tamil Nadu Chief Minister and AIADMK chief J Jayalalithaa also made her presence felt in the world's largest democracy, by expelling party leader K Malaisamy for violation of the party's discipline during this election.
Malaisamy, a former Rajya Sabha member and an ex-IAS officer, took the liberty of expressing his opinion that the AIADMK will play a pivotal role in Narendra Modi's government, likely to be ascertained in Friday's vote counting of the Lok Sahba.
Jayalalithaa's harsh action against Malaisamy on 15 May spells caution to other leaders of the party to be careful in making statements at will about poll results, till they are announced on Friday.
Malaisamy had publicly stated that Modi is a good friend of Jayalalithaa. This apparently made the AIADMK chief furious and she removed Malaisamy from the primary membership of the party. A party statement stressed that Malaisamy violated the party's discipline and brought disrepute to its image, according to media reports.
AIADMK is widely tipped to win majority of seats in TN in this Lok Sabha elections and emerge as the third largest party in the country after the BJP and Congress, both national-level parties.
Even BJP's PM candidate Modi is keeping all options open to parties like AIADMK in Tamil Nadu and BJD in Odisha, to obtain their support for his purported government formation at the Centre.
Both Jayalalithaa and Modi had hurled barbs at each other during the poll campaigning. While the TN CM had challenged Modi's "hyped development" in Gujarat, Modi had criticised both AIADMK and the DMK for their continued hostile attitude.
However, BJP President Rajnath Sigh has stated that the party is open to taking the support of several other state parties if required.