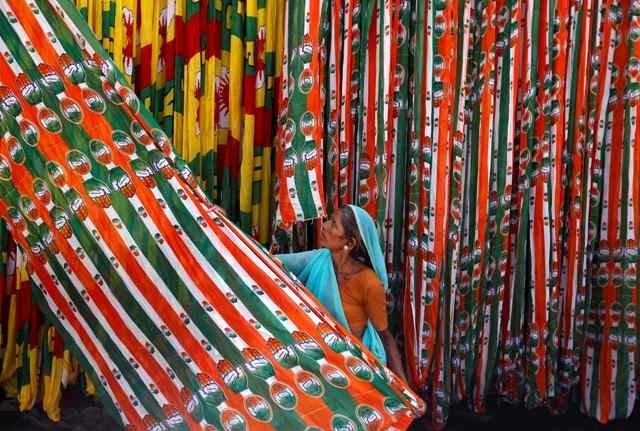 Rohini Nilekani and Tejaswani Ananthakumar, spouses of two prominent candidates in Bangalore South Lok Sabha constituency are campaigning for their husbands' victory this general election.
Nandan Nilekani, who quit the cabinet rank of Chairman of Unique Identification Authority of India (UIDAI) is contesting on a Congress ticket and taking on HN Anantha Kumar of Bharatiya Janata Party (BJP), who is a five-time MP. The election in the constituency will be held on 17 April 2014.
Wife of Nilekani, Rohini runs a non-governmental organisation, Arghyam, which is involved in improving water and sanitation facilities in rural areas. She is busy seeking votes for her husband in the constituency. On 3 April, Rohini campaigned in the constituency and explained voters about her husband's achievements-from founding Infosys till conceiving the idea of Aadhar card for every citizen of India.
Rohini took a stroll in areas like Gangondanahalli and Chandra Layout in the south Bangalore constituency and urged people to give Nilekani a chance to serve them.
"Nandan has entered politics because he thinks he can serve people better. Many politicians come and go, but my husband will turn out to be a different person. He will complete the task he takes up. He has done so earlier," Deccan Herald quoted her.
Nilekani was also scheduled to campaign during the day in the same area where Rohini canvassed. Last Sunday, even noted actor and playwright Girish Karnad joined Rohini in the door-to-door campaign in areas like JP Nagar and Gandhi Bazar.
Meanwhile Tejaswani, the wife of HN Ananthakumar of BJP, has been campaigning for her husband. Tejaswini also runs a charitable trust, which serves mid-day meals to schoolchildren in Bangalore. She is an engineer and was once part of the prestigious light combat aircraft (LCA) project. She later involved herself in her NGO works and family duties. Tejaswini has been campaigning for Ananthakumar since he entered politics decades ago.
While Rohini is seeking votes for her technocrat husband Nilekani to bring a "change" in the constituency, Tejaswini is chanting the "NaMo" (short for Narendra Modi) mantra. She insists that the voters must think about these elections at national level.
(Edited by Vanilla Sharma)