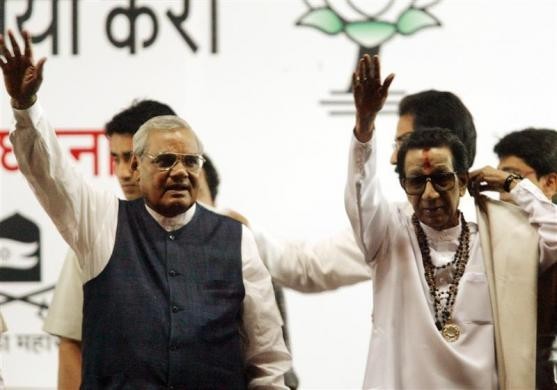 Former prime minister and Bharatiya Janata Party (BJP) patriarch Atal Bihari Vajpayee has turned the attention of the nation towards him, after a long time, by sending his best wishes to the party president Rajnath Singh.
The former PM has been in seclusion and away from active politics for quite some years.
On 2 April 2014, Vajpayee extended his best wishes to Singh, who is contesting this year's April-May Lok Sabha election from Lucknow constituency, which Vajpayee earlier represented. Vajpayee is a nine-time MP and served as Lucknow MP until 2009, but retired in the same year due to health issues.
In 1980, Vajpayee restarted the Jana Sangh as Bharatiya Janata Party, when the Janata Party government collapsed.
Vajpayee suffered a stroke in 2009, which made him speechless and bound to wheel-chair. Since then he has been leading a secluded life with occasional visitors like LK Advani and Manmohan Singh, among others, at his Krishna Menon Marg residence in Delhi.
Now BJP's prime ministerial candidate Narendra Modi is being projected by the party to continue Vajpayee initiated development programmes. During the tenure of Vajpayee, who served as PM between 1999 and 2004, popular welfare development schemes like "Pradhan Manthri Gram Sadak Yojna" were launched. The rural road development scheme links villages with towns and cities.
Now, with the recent developments in BJP, sans Vajpayee, there is a feeling in the party's senior leaders that they have been sidelined. Modi is said to be calling the shots in the party affairs. It is said that Vajpayee wanted to remove Modi as the Gujarat Chief Minister after the Godhra train massacre in 2002. The Godhra incident and aftermath communal clashes have claimed more than 1000 lives.
Vajpayee's close associate, Shiv Kumar will reach Lucknow and extend Vajpayee's best wishes formally to Rajnath by handing him over an "Angavastram" (stole) on Thursday, 3 April. Kumar will also hold a press conference in Lucknow along with the area's sitting MP Lalji Tandon.
According to a press release, Rajnath Singh will file his nomination from the Lucknow constituency by wearing the Angavastram on Thursday.