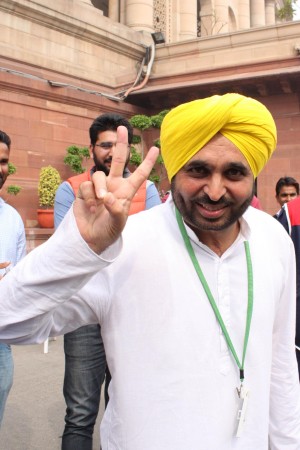 Both the Lok Sabha and the Rajya Sabha were on Friday, July 22, adjourned till Monday, July 25, after uproar over Aam Aadmi Party (AAP) MP Bhagwant Mann's Facebook video, in which he has shown the internal security positions of Parliament.
A case was lodged against Mann at the Parliament Street Police station in this regard. The AAP MP was in damage-control mode throughout the day, first saying he only intended to show the procedures of the Zero Hour in his video, and then apologising unconditionally, besides promising never to pull such a stunt again. He also said Google Earth shows everything these days, and that he did not think he had done anything that would endanger Parliament or the people in it.
However, Minister of State for Parliamentary Affairs Mukhtar Abbas Naqvi said: "It's against Parliamentary rules and regulations to videograph sensitive areas of Parliament. Giving out such sensitive information at time when terrorists are looking for opportunities to attack is disastrous." He also said Mann would be jailed if he went ahead with the encore he had promised.
Shiromani Akali Dal (SAD) MP Harsimrat Kaur Badal echoed his sentiments when raising the question: "Who will be responsible if that video is used by terrorist organisations for attacks? Can we take this so leniently?" She added: "The incident must be investigated properly, and the intentions behind the shooting of the video must be revealed."
Meanwhile, within Parliament on Friday, SAD MP Prem Singh Chandumajra joined BJP members Kirit Somaiya and Maheish Girri soon after the Lok Sabha proceedings began in moving privilege notice against Bhagwant Mann during Zero Hour. They also demanded a breach-of-privilege motion against him. The House was adjourned till noon due to the uproar that followed.
Subsequently, Lok Sabha Speaker Sumitra Mahajan summoned Mann on the issue. Mahajan is believed to have expressed displeasure at Mann's actions during their 20-minute meeting. She later said: "Thirteen people laid down their lives for the security of Parliament once. I know the matter is serious."
As the uproar continued, the Lower House of Parliament was adjourned till Monday. Mann later apologised for his actions, but then a complaint was lodged against him at the Parliament Street Police Station.
In the Rajya Sabha, the SAD's Naresh Gujral, while raising the issue, called it an "absolutely nonsensical act by the MP." The Rajya Sabha was adjourned till noon due to uproar there as well, and is said to be currently functioning. When the House met after the adjournment, the din continued, leading for it to be adjourned till Monday.
Meanwhile, MP Harinder Singh Khalsa, who was suspended from the AAP for "anti-party activities" in August last year, said Mann, who sits beside him in Parliament, often reeks of alcohol, and he had informed the Speaker of this.