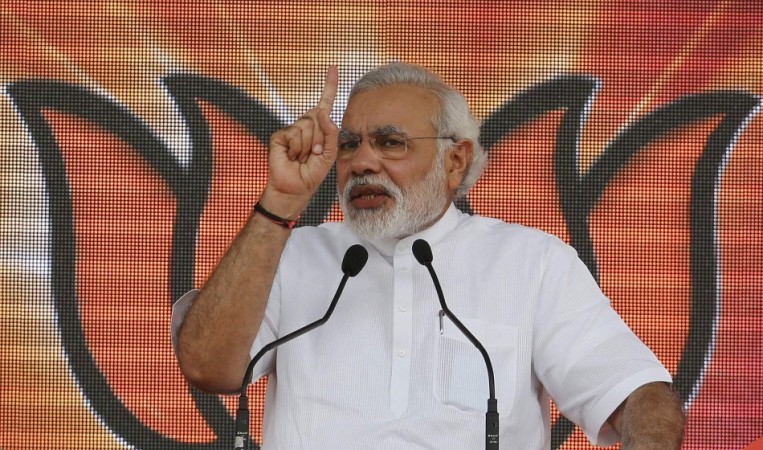 An emotional BJP prime ministerial candidate Narendra Modi addressed a rally in Uttarakhand capital Dehradun on Sunday and criticised the way Congress government in the state dealt with the flash floods that claimed lives of 4,364 people in June.
The prime ministerial candidate had been among the first politicians to visit and inquire about the flood situation in Uttarakhand. Scientists have been planning to build storage projects in the Himalyan region to avoid destructive floods.
"In fact, the Tehri Hydro Project, which is a storage project, absorbed the excess discharge in the Bhagirathi and helped in saving towns of Rishikesh and Haridwar in the downstream," M M Madan, Director (Hydel) at GVK Group, told PTI.
Below are the highlights of Modi's speech:
When Kutch was destroyed by the quake we opened our arms to every possible help. Pakistan also helped us and we accepted help. In times of tragedy and human suffering there cannot be any scope for politics
The amount of energy they (Congress) are putting against Baba Ramdev, if they invest even half of those sources towards victims of the floods things would be different.
There is so much water in the hills but the nation is in darkness. We can generate power through water in the mountains, but these people (state government) have no time. Science can ensure we get electricity from water and this will help. They want people to remain poor
Uttarakhand is already an SEZ - Spiritual Environment Zone. Terrorism divides, tourism unites. And Uttarakhand is a tourism hub.
The youth of Uttarakhand is leaving because of lack of opportunities. There is scope for tourism but no growth. Why train youth of Uttarakhand in handicrafts? Why not work on skill development for the people
There are no schools for adventure tourism, should set up such places. We need new thinking and commitment for the progress of Uttarakhand.
Under Khanduri ji (BC Khanduri - former Chief Minister) Uttarakhand took a landmark decision. A law was made, for which Anna Hazare even lauded Khanduri ji. If you (Rahul Gandhi) care so much about Lokpal, why didn't your party pass the bill in Uttarakhand.
Results of 5 states are out and it is clear which way the wind is blowing. It is beginning of Congress Mukt Bharat