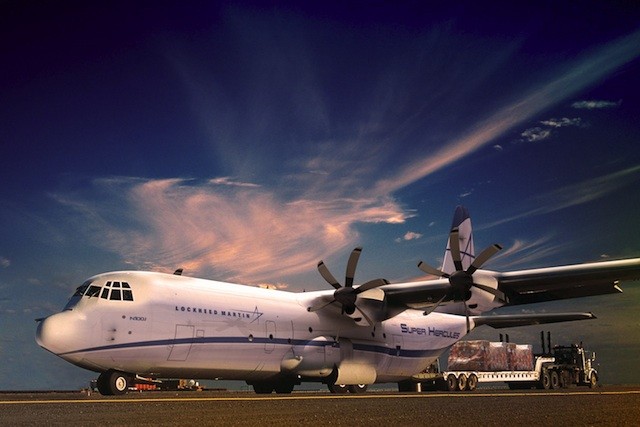 Lockheed Martin has launched an updated civilian version of its C-130J Super Hercules transport aircraft and is in the course of getting certification from the US Federal Aviation Administration (FAA). The aircraft is presently undergoing flight tests.
The idea is to transform the Hercules into a civil aircraft that can not only fly passengers, but also enable transportation of freight. The civilian version has been hived off from the military version of the aircraft, Lockheed representatives told International Business Times, India.
"The Bethesda, Maryland-based company had kicked off the certification process back in 2014. The aircraft will be ready for live flights in a year's time and we have made an offer to India too to purchase the aircraft. India can use it for commercial and civilian purposes," Lockheed Martin officials told IBT, India at Aero India 2017.
The LM-100J Super Hercules, as it will be known, is expected to generate high revenue from the non-military venture. So far, Lockheed Martin has been relying on military aircraft alone for its revenue. The civil aircraft version has been valued at around $65 million and is expected to have a good market as the earlier freighter versions across the world are approaching the end of their lifecycles.
The LM-100J is modelled after latest-generation C-130J Super Hercules, which has been in production since the early 1990s. There is a change though in the use of digital avionics and in the design of the aircraft that would improve performance and reduce operating costs.
A civil multi-purpose air freighter, the new LM-100J will have modern avionics and a digital back-end system with a loadmaster computer station that will assist with loading weight and balance. The cargo compartment will be 4.6m (15ft) longer than the earlier L-100, providing space for two additional pallets, and the aircraft will be able to carry 33 percent more payload on a 2,500nm (4,630km) flight.
Lockheed Martin estimates that it can sell 75 to 100 LM-100J's over 20 years, a demand similar to the original L-100. Lockheed Martin also expects that its potential customers could come from oil, gas and mineral exploration companies, which transport heavy equipment like generators and earth moving equipment to remote outposts not linked to railways or roads. They need rugged aircraft that can operate from unpaved runways.