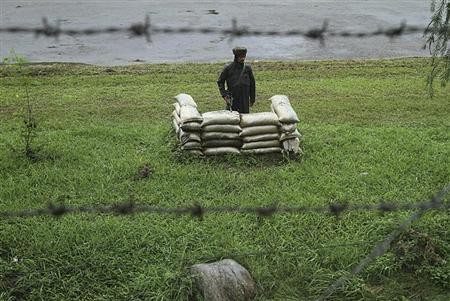 Pakistani troops violated ceasefire at half a dozen places along the Line of Control (LoC) in Poonch sector of Jammu and Kashmir on Sunday night.
At 11.30 pm, Mandi and Garhi battalions in the Poonch district were under attack when Pakistani army opened fire with small automatic weapons and mortars. The Indian army retaliated to the heavy firing resulting in exchanges that ended around 3:45 am on Monday. No causalities have been reported so far.
The incident comes two days after External Affairs Minister Salman Khurshid held talks with Sartaz Aziz, Prime Minister Nawaz Sharif's adviser on foreign affairs and national security.
The two ministers had met on 13 September during a Shanghai Cooperation Organisation (SCO) conference in Bishkek, Kyrgyzstan. They had discussed the issue of ceasefire violations across the LoC in Jammu and Kashmir and Khurshid had stressed that both countries need to maintain peace and tranquility on the border.
"The ceasefire is the basic fundamental ingredient of confidence between our two nations; and that ceasefire must be respected, the Line of Control must be respected," Khurshid had said.
Over 90 ceasefire violations have already been observed by the Pakistan army since 1 January.
Six Indian soldiers have been killed during these border violations and at least 13 were injured due to firing at forward posts, civilian areas and Indian army patrols in August this year.
According to Defence Minister AK Antony, there were 93 LoC violations by the Pakistan troops in 2012. The number has been growing gradually over the last five years. In 2011, there were 51 cross-border violations by the Pakistan army.