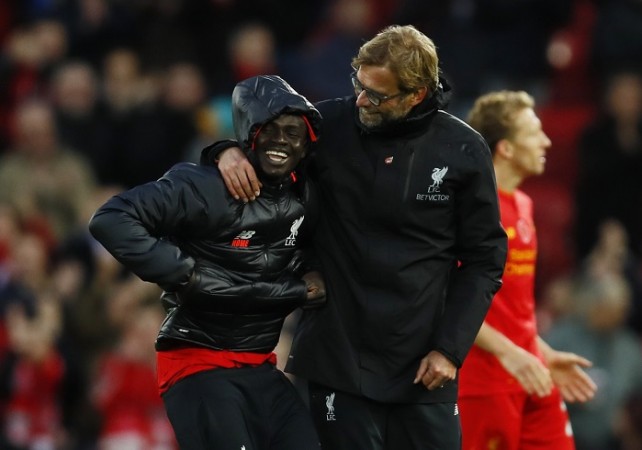 Jurgen Klopp, in his own inimitable style, shut down all the title talk after Liverpool went top of the Premier League table with a thoroughly impressive 6-1 thumping of Watford on Sunday. However, try as Klopp might, there is no denying that this Liverpool team look like serious contenders, one likely to be right up there in April and May fighting for the coveted title.
Knowing that a win would take them top of the table after Arsenal could only manage a 1-1 draw against Tottenham in the earlier game, Liverpool turned on the style, with Sadio Mane, Philippe Coutinho, Emre Can, Roberto Firmino and Georginio Wijnaldum all finding the back of the net.
Liverpool were again at their fluid best, finding spaces at will and making such wonderful movements off the ball that Watford, who have been decent defensively this season, were left dizzy.
"I'm really happy," Klopp said after the win which took Liverpool to the top of the table, one point ahead of Chelsea and two better than Manchester City and Arsenal. "It was a good performance, absolutely, against a difficult opponent.
"In the last few games they had three clean sheets and not lucky clean sheets. We knew about the challenge and we tried to do the right things in training and prepare the team for this. Obviously it worked, together with the confidence we obviously have, and the skills and the attitude of the players. So it worked out."
When you continue to put in such terrific performances in front of goal, talk about the title, the first since 1990, is inevitable, but Klopp believes, despite his team's wonderful form, it is still too early to make that call.
"If somebody thinks being one point ahead after 11 matchdays is a big sign for the rest of the season, I can't help this person," Klopp added. "Sorry. We stay cool, nothing happened. It's the best position I can imagine actually, but really nothing else happened.
"The only thing you can do is to work and stay concentrated, because a lot of different things could happen in the next few weeks and months. How positive they are is up to us, actually."