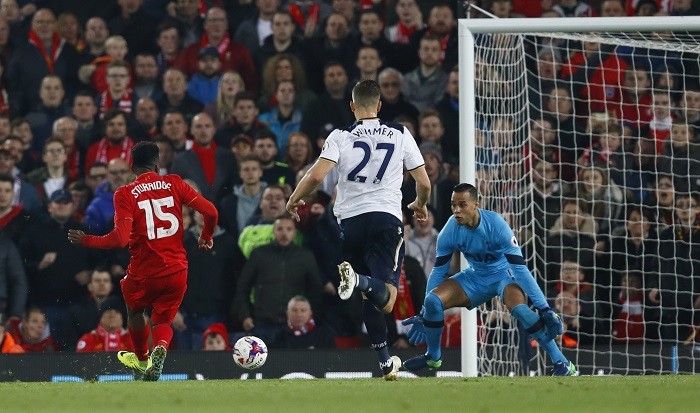 Daniel Sturridge seemed to tell Jurgen Klopp with his two goals against Tottenham in the EFL Cup on Tuesday that he deserves to be starting all games for Liverpool. The England striker found the back of the net when he had to, and, as a result, the Reds moved into the EFL Cup fourth round.
Sturridge was on hand to provide a clever chip over goalkeeper Michel Vorm in the ninth minute to give Liverpool the early lead, so crucial in a big game, before the England striker doubled his team's advantage four minutes past the hour, running in behind the Spurs defenders before proving a cool striker's finish.
Tottenham pulled one back after Lucas Leiva brought down Erik Lamela inside the box allowing Vincent Janssen to fire home from the penalty spot, but that equaliser would not come for the London side, giving Liverpool a passage into the quarterfinals.
Jurgen Klopp was all praise for Sturridge, a player who hasn't seen eye to eye with his manager all the time. "That's his talent, that's his strength," Klopp said. "He's a finisher, he's a really good striker, there's no doubt about this. I was never in doubt about this, even when he didn't score.
"That's not in question. We don't have to discuss the quality."
What can be discussed again, though, was the quality of Liverpool's performance – impressive even with Klopp making 11 changes to his lineup. The Klopp effect has certainly enveloped the entire Liverpool side now and the more they seem to play under the German manager the better they seem to get.
Klopp was a little disappointed, however, at the scoreline not being more emphatic, with Liverpool missing quite a few presentable chances. But, in the end, the German was happy to just pick up the win.
"The penalty made it a little bit closer – that was the only really difficult situation for us," Klopp added. "We had the opportunities, we had the chances, we could have scored two, three or four [more] times. But we don't live in dreamland and it's not that you can think about closing the game at 3-0 or 4-0 early enough that everybody knows we go to the quarterfinal.
"No, we had to do the job. We didn't score in the moments when we could have. They scored the penalty. 2-1 is close but now it is not interesting anymore because we are in the next round."