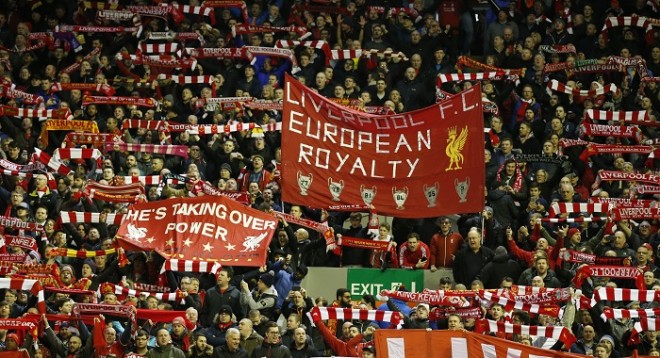 On a night when Liverpool rose to the occasion against their biggest rivals, Jurgen Klopp was grinning like a Cheshire cat, proud and ecstatic after seeing his team put in a near-perfect team performance.
Daniel Sturridge and Roberto Firmino might have scored the goals, but it was difficult to fault any one of the players on the pitch against Manchester United Thursday, with every single one of them doing their jobs to take Liverpool one step closer to the quarterfinals of the Europa League.
"It was good, from the first second until the last," a happy-as-can-be Klopp told the club's official website. "There were a few minutes in the second half where we lost a little bit of control, so we changed the system and again needed a few minutes to adapt to the new system.
"Then we were back in the game and in control again. It's not too important how you play against Manchester United, it's always difficult to avoid chances, but there wasn't really a lot, so that's one of the best things about this game.
"Our game in the first half, we had more chances and could have scored more goals. But that's how it is in football. We forced one goal with a perfect pass in the box. In the second half, scoring the second goal was very important. We did it and it was absolutely deserved.
"It was a great performance from the first until last second."
Had it not been for David De Gea, the lead for Liverpool to take to the second leg at Old Trafford next week would have been a lot bigger, but Klopp believes the 2-0 result and performance was as close to perfect as it gets.
"De Gea is a good goalkeeper, it's no surprise (he made so many saves)," Klopp added. "You have to carry on and create more chances, and score goals. In football, it's really rare that you use each chance you have.
"Two-nil is a perfect result. Of course, if possible we would have liked to win a little bit clearer, but everything is OK and there is nothing to criticise."
What was also perfect was the support at Anfield. This was an occasion to savour, and the Anfield faithful created such an atmosphere, that it not only inspired the Liverpool player on the pitch further, but seemed to affect the Manchester United players to their detriment as well.
"The atmosphere was unbelievable," Klopp added. "It was really great and I want to say thank you to everybody that was involved in this atmosphere. It was easy to enjoy from the first until the last second. That was Liverpool how I knew it before I came here, so that was really, really great."