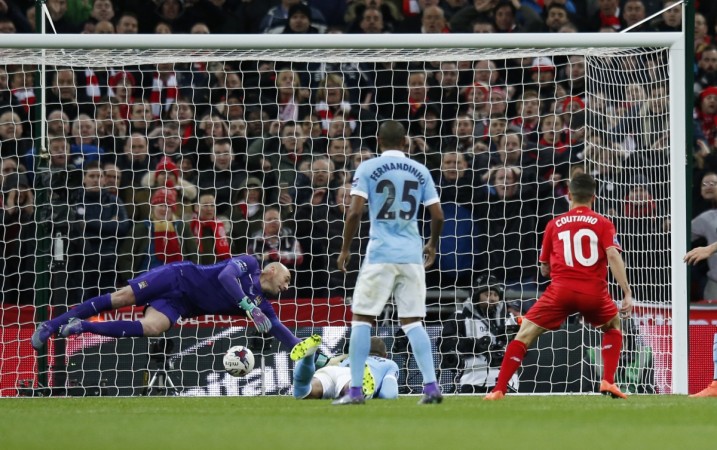 Manchester City clinched the Capital One Cup, defeating Liverpool on penalties. City's goalkeeper, Willy Caballero turned out to be the hero of the night, after making three brilliant saves during the penalty shootout at Wembley, Sunday. The score read 3-1 on penalties, after the 120 minutes of play, including 30 minutes of extra time, ended 1-1.
Liverpool had actually got a huge advantage in the shootout, after Emre Can scored the first penalty, while City's Fernandinho missed from the spot. However that was the last time Liverpool fans smiled at Wembley as Caballero put on an incredible exhibition of top saves in such a pressure-cooker situation to hand Liverpool the defeat.
The goalkeeper saved three penalties in succession -- strikes from Lucas, Philippe Coutinho and Adam Lallana. Make no mistake, all those saves from Joe Hart's understudy were top draw. One has to credit Caballero for such a stellar performance.
The final came down to penalties after goals from Liverpool's Philippe Coutinho and Manchester City's Fernandinho in the second half of normal time. The contest between the two teams was fiercely fought.
The final even got a bit nasty in the last few minutes of extra time when Yaya Toure and Adam Lallana nearly came to blows. Other players had to intervene and separate the two before things went out of hand.
The first 45 minutes did not provide much quality football and neither team could break the deadlock despite chances here and there. However the second half was different. Both teams came up with more intent.
Manchester City took the lead in the second half via Fernandinho's strike in the 49th minute. The game got a bit more interesting with Liverpool pushing further, in search of the equaliser. Manchester City should have in fact killed the game in the second half as they got some clear chances at goal, to win the title there itself in the second half. But, Raheem Sterling, the former Liverpool playmaker, missed a couple glorious chances in front of goal for City, while Sergio Aguero was denied a clear penalty, when Alberto Moreno brought the Argentine down.
Even when City looked set to score, Liverpool goalkeeper Simon Mignolet, who should have stopped the strike from Fernandinho, came up with some crucial saves to keep his team in the game.
Liverpool finally managed to equalise in the 83rd minute. Coutinho drilled a low shot from 12 yards, after the ball had rebounded to him off the post from an Adam Lallana shot. Despite such a comeback, Liverpool, who got some chances in extra time, finished second best on penalties.