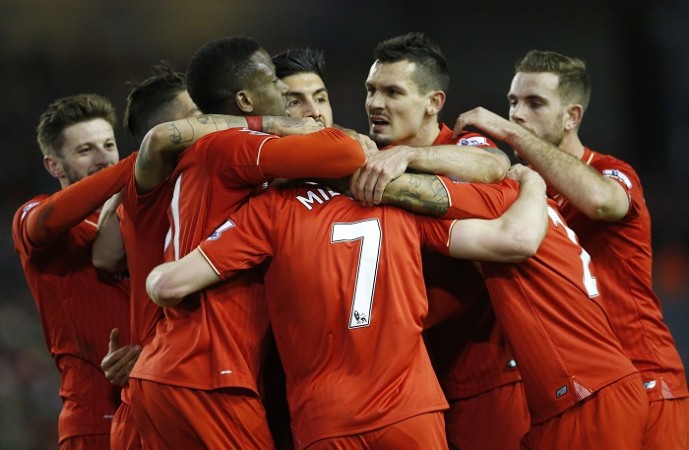 Liverpool played some high-pressing football to defeat Manchester City 3-0 at Anfield, Wednesday. This was a perfect reply from Jurgen Klopp's side, who lost to City in penalties during the Capital One Cup final at Wembley, Sunday.
A number of Liverpool players stood out against City. Adam Lallana and James Milner were the two most impressive players for the Reds.
Liverpool started the game brightly, and enjoyed a good share of possessions, but had nothing to show for their efforts in the first half hour of the game. However, Lallana opened the account for Liverpool in the 34th minute. His attempt from long distance somehow found the back of the net, though, the ball lacked any venom.
Liverpool, after the goal, looked an even more potent force with their players eager to double the lead before the second half whistle, and they did so with Milner's goal in the 41st minute. It was a neat team goal from Liverpool.
The first half ended 2-0 and as expected City came up determined to find a goal in the second half and enjoyed good share of possession as well. With City desperate for win, manager Manuel Pellegrini even brought in Wilfried Bony in the second half for former Liverpool player, Raheem Sterling, who was booed every time he got the ball at his feet.
Liverpool central defenders – Kolo Toure and Dejan Lovren – deserve appreciation for putting up an emphatic performance against Sergio Aguero, who was very tightly marked. Flannagan did not give much space to Sterling as well.
City were dealt a killing blow in the 57th minute as Roberto Firmino scored and the visitors needed a miracle to come back from such a situation. From there on it was once again Liverpool, who dominated possession and even threatened to increase their lead.
Though Liverpool won the game without much trouble, City also looked below par in the match, which led to their defeat. Liverpool dominated and played better on the day, but this City team, which comprises a number of stars, should have atleast fought well.
This loss against Liverpool has dampened City's hope of challenging the EPL title. They are now 10 points adrift of the champions Leicester City. Liverpool lie eighth in the EPL standings after the win.