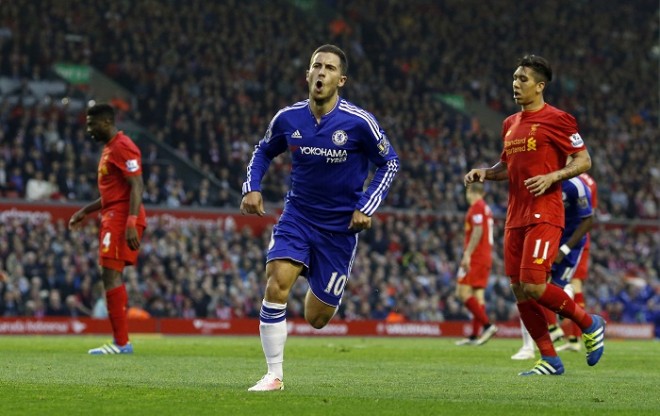 Liverpool might have been impressive at Anfield of late, but they were below par against Chelsea on Wednesday, with the home team escaping with a 1-1 draw. Eden Hazard helped Chelsea take the lead in the first half, with the goal later cancelled out by second half substitute Christian Benteke in the 92nd minute of the game.
Jurgen Klopp's side started brightly against Cheslea, and even threatened to score early, but as the game progressed, the home team were not up to the mark. Klopp believes that his team lost their formation during the game as well.
"It was the most important game for us this season to be honest. The first 15 minutes we were brilliant, but after 16 minutes we lost patience, we lost formation, because we lost patience, and that's the problem," Sky Sports quoted Klopp as saying.
However, one has to give credit where it is due. Hazard has had a poor season, but his performances in the last few matches have been more like the ones we expect from him. The Belgian was at his menacing best against Liverpool, who were troubled by his burst of pace numerous times, along with his trickery.
It was such pace and skill, which helped him score an incredible goal, dribbling past five to six defenders, and gliding the ball past Simon Mignolet in the 32nd minute of the game.
Liverpool, who were searching for the equaliser, looked good in the last 20 minutes of the game, but failed to draw level until stoppage time (90+2). Benteke headed the goal into an open net for the equaliser.
Klopp also praised Mignolet, who made some quality saves to keep Liverpool in the match.
"We deserved in the end our goal. That they didn't score more often we thank Simon Mignolet. How we played the first 15 minutes showed what we are capable of, but how we played after that showed that we don't trust ourselves," Klopp said.
This was not the sort of performance Klopp would have expected from his first XI -- which could also start against Sevilla in the Europa League final -- against a weakened Chelsea side, who looked good on the offensive as well as the defensive side. The Blues had a number of absentees, including John Terry and Diego Costa, but the way Chelsea went about their business was commendable.
Liverpool need to up their game against Sevilla, if they want to secure a Champions League berth, by winning the Europa League next week in Basel.