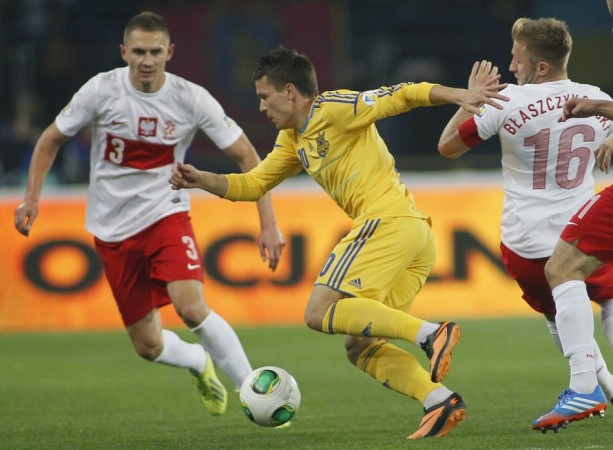 Dnipro Dinipropetrovsk are convinced Liverpool will sign their player Yevhen Konoplyanka in the summer.
The Reds came quite close to completing the move for the Ukrainian international winger in the January transfer window, but fell just short with time running out on deadline day.
Brendan Rodgers admitted he was disappointed at losing out on the signing of Konoplyanka, but Dnipro executive director Andriy Rusol is "1000 percent" sure Liverpool will make a move for the 24-year-old come the end of the season.
"I am a thousand percent sure that Liverpool will try again in the summer and then we'll let him go," he is quoted as telling Ukrainian media outlets.
"Money was not the problem, the problem was that Liverpool came too late.
"But in the summer everything will be fine. If Liverpool, in the summer, report to us, Yevhen will still go to this club."
Rusol also rejected suggestions it had been the owner Igor Kolomoisky who had vetoed the move to sell Konoplyanka to Liverpool.
"Igor Kolomoisky gave the go-ahead immediately," Rusol added. "It is not our fault, Liverpool representatives could have arrived a day or two earlier.
"Up to the deadline we were waiting for the transfer of money from Liverpool. But this did not happen."
Liverpool could well have had two January signing, instead of nil, if former Barcelona and Sevilla midfielder Seydou Keita is to be believed.
According to the Mali international, Liverpool missed out on garnering his signature, after he decided to break off negotiations with the English Premier League side in favour of a move to Valencia.
"When we received the call from Valencia, talks with Liverpool were at a very advanced stage," Keita said. "But then I told my agent we were going to Valencia. I did not doubt for a second.
"When I came to play at the Mestalla with Sevilla or Barcelona I suffered a lot to win, because this is a really big club with fantastic fans. That is why I opted to come here."
Keita, who has plied his trade in China with Dalian Aerbin in the last year and a half, signed a six-month contract with Valencia, with the option of extending the deal by a further year.
"It is important that this is clear. I am coming here from China. To sign for a year-and-a-half is a difficult thing for the club," Keita added.
"I told them to relax, that I would sign for six months and if I have the right level we will all have time to continue. That is better for the club and for everyone."