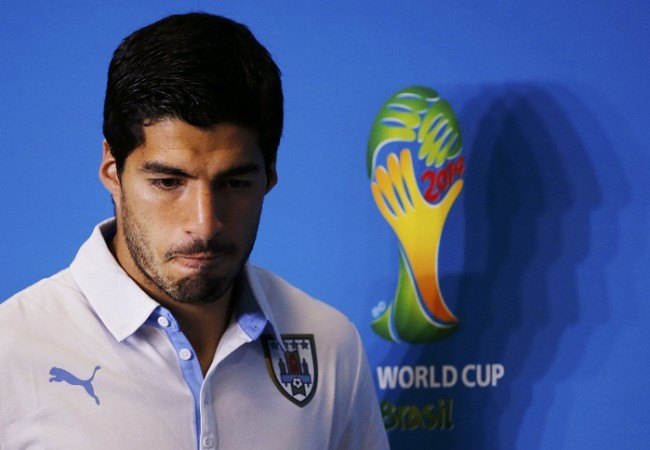 Liverpool manager Brendan Rodgers insisted the club did everything possible to convince Luis Suarez to stay at Anfield, refuting suggestions the English Premier League side were more than happy to let go of their star player following another biting scandal.
Suarez completed a big-money £75 million move to Barcelona, after the striker made his feelings known about wanting a move to Spain.
Liverpool held out for the highest amount possible for the player who scored 31 goals in the Premier League last season, with Barcelona willing to take Suarez to the Camp Nou despite his four-month ban, handed out by FIFA, from all football-related activities following his now infamous bite on Italy defender Giorgio Chiellini at the World Cup.
That particular incident was the third time that Suarez has bit a player, with the second one coming only a little over a year ago when the Liverpool striker decided to put his teeth to use on Chelsea defender Branislav Ivanovic's arm.
Suarez was given a long ban for that bite on Ivanovic, and after seeing yet another incident concerning their player come back to bite them, it is believed Liverpool's patience finally ran out.
However, Rodgers was adamant over the fact that Liverpool did everything they could to keep Suarez with the club, but eventually had to acquiesce to the player's wishes.
"We did everything we could as a club to keep Luis," Rodgers told the Liverpool Echo. "He wanted to go and play in Spain, and unfortunately when a player no longer wants to play for you, we need as a club to look at it.
"It was his decision for him to go, he's gone to Barcelona, a club he wanted to play for and now we'll move on.
"I'm not sure if he would have gone regardless of the World Cup. But I never felt that towards the end of the season, and likewise he never said he would give us another year either. He had obviously signed a new deal so we had that.
"But I think we have had great service out of Luis and it's one that we can't worry too much about now, it's done, it's gone and our focus is here."
Liverpool have already spent a large chunk of that money on new players with Rodgers signing Adam Lallana, Rickie Lambert (both from Southampton), Emre Can from Bayer Leverkusen and most recently Lazar Markovic from Benfica.
"There is a lot of work going on with the recruitment team in terms of getting in the right player and I am sure we can identify that," Rodgers added.
"This club and many other clubs have shown over a period of time you move on, and believe me, it will be a really exciting season for us."
As much as Rodgers would like to believe Liverpool can move on from Suarez ASAP, it is not going to be an easy task. As Arsenal have shown time and again, when you lose your best players, it is extremely difficult to stay competitive at the top and challenge for the title, with Tottenham's plight last season, following the sale of Gareth Bale to Real Madrid, only emphasising that point.
The manager, though, has shown he is capable of leading the Liverpool ship, and Rodgers will be the key if the Reds are to make another sustained challenge at the Premier League title, after narrowly missing out last season.