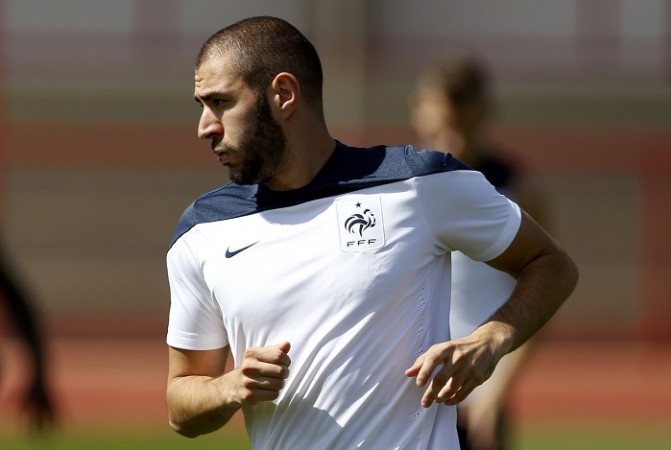 Liverpool continue to be interested in some major names in football with the latest rumours seeing them linked with Manchester United's number one target Arturo Vidal, Real Madrid striker Karim Benzema as well as Bayern Munich's Switzerland Messi Xherdan Shaqiri. Young right-back Javier Manquilo is also closing in on a move to Anfield, while Fabio Borini could yet make a permanent switch to Sunderland.
The Reds have already brought in four players – Rickie Lambert, Adam Lallana, Lazar Markovic and Emre Can -- this summer with the likes of Loic Remy, Dejan Lovren and Divock Origi also set to complete their moves to Liverpool.
Those names could be joined by one of the best midfielders in Vidal, with reports from Chile suggesting Liverpool are one of the preferred destinations for the Juventus man. Vidal has been heavily linked with a move to Manchester United, and the 27-year-old has reportedly told his representatives he will only leave Juventus for one of three clubs this summer – United, Real Madrid and Liverpool.
Any team will become formidable with the Chilean in their lineup and a midfield partnership of Steven Gerrard and Vidal could just set the English Premier League on fire.
Another player rumoured to interest Liverpool is Karim Benzema, with Brendan Rodgers reportedly checking with Real Madrid if they are open to a sale. However, Benzema is likely to stay at Real and sign a new contract, with the France international set to be the central striker in a four-pronged attack for Real following the arrival of James Rodriguez, according to respected Spain-based journalist Graham Hunter, who spoke to Talksport.
Reports of a Shaqiri to Liverpool switch might have cooled of late, but the Reds still remain in the running for the Bayern Munich playmaker after the Swiss admitted he was not aware of any interest from Juventus amid reports of a proposed move to the Italian champions.
"At the moment I am on vacation and I do not know what will happen in the future, all this is taken care of by my agent and brother," Shaqiri told Tuttosport.
"I have a contract with Bayern Munich, which expires in 2016 and today that is the only certainty for me. Juventus? I have had no contact, just as I do not know of interest from Liverpool and Monaco."
Shaqiri, though, did admit a switch to Juventus would not be a step down from Bayern Munich.
"Juventus are a great club, who doesn't want to play for them?" he added.
"To date, I repeat, I am a Bayern Munich player, but for me Juventus would not be a step backwards."
Meanwhile, Manquilo is set to move to Liverpool from Atletico Madrid on a two-year loan deal after agreeing personal terms with the club, according to Marca.
Arsenal were interested in signing the young right-back, but would not agree to the terms set out by Atletico, with Liverpool jumping in and agreeing on a move. According to the report, the Reds will also have the option of buying Manquilo for £5 million at the end of the loan agreement.
Finally, one player who could be leaving Liverpool is Fabio Borini, with Sunderland manager Gus Poyet not giving up on the transfer. Sunderland reportedly agreed a £14 million fee for the Italian with Liverpool, but the player, who starred for the Black Cats on loan last season, has so far been reluctant to agree to a permanent switch.
"It is not for me to explain but it is not just a question of Fabio wanting to come or not," Poyet told Sunderland Echo. "There are many, many things to look at and unfortunately, I cannot comment on those.
"We are involved in negotiations and you never know how long that can take. There's nothing new to report as things stand, but we are still hoping to close the deal completely.
"It's up to Fabio. We have been clear, everything is fine, there's no doubt about his connection with our club, and me and him get along fine, so there is no reason for it not to happen."