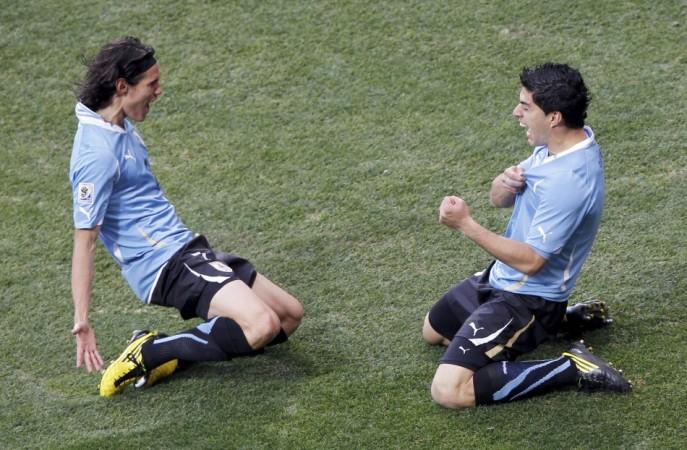 Uruguayan striker Edinson Cavani revealed that countryman Luis Suarez does not believe Liverpool have the credentials to qualify for the Champions League next season despite the club making four new signings in the summer.
"We have been speaking a lot and, while I can't tell you everything, I can tell you that he is desperate to start playing Champions League football," Cavani was quoted saying in the Express. "Liverpool already know that, though, because he has told them."
Cavani, who just completed a transfer from Napoli to Paris Saint-Germain, went on to say that if Suarez expected Liverpool to qualify this coming season he would remain at the club.
"I think if he thought Liverpool would qualify for Champions League football next season he would stay but, with the other top teams in England adding players, he doesn't think Liverpool have the resources to break into the Champions League spots," he explained.
The purchases of Luis Alberto, Iago Aspas, Simon Mignolet and Kolo Toure have not assured Suarez that Liverpool can compete with Arsenal.
"I have said before one of the most complete strikers in the world needs to be playing at the top level and I hope Liverpool understand that," Cavani continued. "He doesn't want to leave on bad terms because he respects the club and fans, but he needs to achieve his dreams in the game."
If Suarez were to transfer to Arsenal it would inevitably be on 'bad terms' as the London club represents Liverpool's prime competition for achieving a top-four spot. In terms of achieving his dreams in the game, Liverpool fans question whether that argument is valid with regard to Arsenal, who have not won a trophy in eight years.
The player has been used primarily as a substitute during the club's pre-season tour. Manager Brendan Rodgers dismissed any suggestions that his exclusion is due to the impending transfer.
"He has still got some way to go [in terms of fitness]," Rodgers said. "He is a number of weeks behind the other players. I also have to consider that our focus over the course of pre-season is for the first game [Premier League] and Luis will not be available for the first game."
"But it is important he is very much part of the group," Rodgers explained. "He is working hard on his conditioning and over the course of time as he gets closer to playing we will build him up to more minutes on the field."