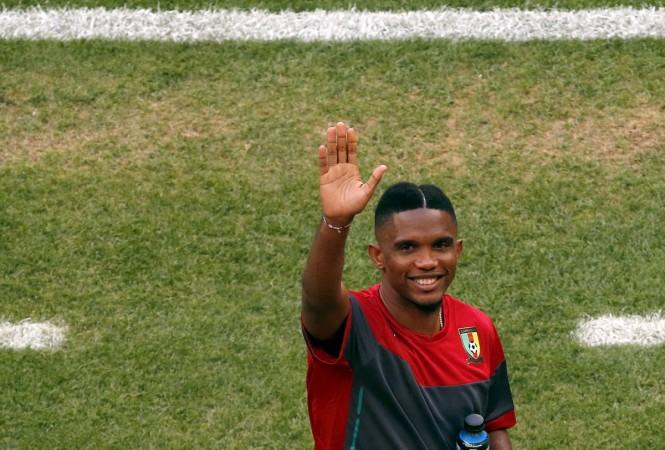 Liverpool are reportedly considering a move for former Chelsea striker Samuel Eto'o as they continue to look for someone to fill Luis Suarez's shoes.
The 33-year-old striker, who has been linked to a number of clubs since being released by the Blues in May, had earlier dismissed rumours of him joining the MLS or clubs in other countries outside Europe, insisting that he was still capable of playing at the highest level.
Although clubs, including West Ham United and Ajax, were believed to be interested in securing his signature, the Cameroonian would probably be more favourable to a move to a bigger club like Liverpool.
However, the Reds have not finalised a move for the former Barcelona striker, even though they are they are reportedly considering Eto'o as a serious option, according to ESPN.
With Suarez, who scored a record equalling 31 goals from 32 appearances in the Premier League last season, completing a £75 million switch to Barcelona last month, Liverpool are in dire need of a new striker this summer despite them having the likes of Daniel Sturridge, Rickie Lambert and Fabio Borini.
Sturridge is currently the only reliable striker at Liverpool, with Lambert and Borini most likely to be used as backup.
This is why Liverpool boss Brendan Rodgers had said that it was "crucial" that his side sign a striker before the end of the summer transfer window.
The Reds were earlier on the verge of signing Queens Park Rangers striker Loic Remy for a reported £8m. But, the deal was called off at the last moment after the Frenchman reportedly failed a medical.
The Merseyside club were also being linked to Paris Saint-Germain's Ezequiel Lavezzi and Edinson Cavani. However, the duo's huge price tag may have discouraged the Reds as no further developments were reported.
So, Eto'o seem to be the most feasible option for the Reds, with the Cameroonian having a lot of experience playing with the biggest clubs – including Barcelona, Inter Milan and Real Madrid – in Europe.
The 33-year-old striker wasn't bad for Chelsea either as he ended up scoring nine goals, which included a hat-trick against Manchester United, in 21 Premier League appearances at Stamford Bridge last season.