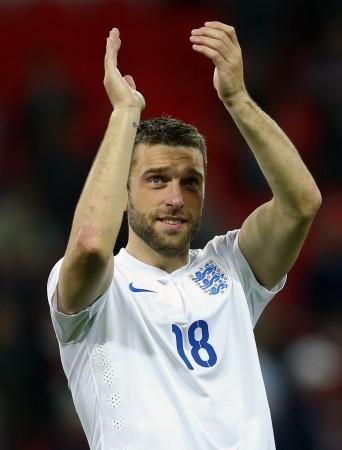 Liverpool striker Rickie Lambert has attracted interest from Crystal Palace, despite not being able to shine for the Reds.
Crystal Palace manager Alan Pardew is said to have kept Lambert as one of his attacking options to sign during the transfer window.
The Englishman spent his quality years with Southampton prior to joining the Reds during the summer for £4 million transfer fee plus add-ons, but the player has not been able to justify talent for his boyhood club.
Crystal Palace target striker Bafetimbi Gomis might not be made available with another Swans striker Wilfried Bony closing in a deal with the defending champions, Manchester City for 25 million, reported Daily Mail.
Hence, Crystal Palace might be forced to look into the prospect of signing the former Saints striker.
Eyebrows were raised when Brendan Rodgers decided to sign the 32 year old striker, when Liverpool under FSG have always tried to sign players with age on their side.
Liverpool's number 9 has not been able to impress much, scoring only two goals so far in all competitions. Having had a splendid run with the Saints, much was expected from the English striker, who was also a part of the England's squad for the 2014 world cup in Brazil.
With Lambert not getting a good game time for the Reds, Crystal Palace might have an edge in signing the Liverpool striker, for Alan Pardew could give him plenty of playing time to prove his class as one of England's top striker.
With Brendan Rodgers on the lookout for a striker and Raheem Sterling being used as a false number nine, Lambert needs to understand that he is falling down the pecking order for the Reds.
Though his love for the Reds is understood, he needs to decide if he wants to warm the bench for the Reds or prove himself on the field for Crystal Palace.
Lambert is one such player who needs more game time. He is not one of those players who can be used as a super sub, or as an impact player.
He is technically a sound player and can play a second striker role to perfection where he can hold off defenders and allow other quicker players to make those darting runs inside the danger area and he himself can score goals when a chance comes by as well.
Crystal Palace players such as Dwight Gayle, Yannick Bolasie, Kevin Doyle could benefit from Rickie Lambert's presence.