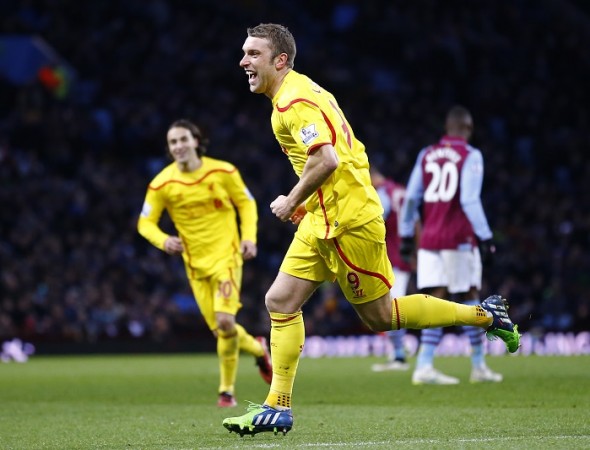 Liverpool striker Rickie Lambert reportedly rejected a move away from Anfield on deadline day after Aston Villa wanted the former Southampton striker.
Despite not being handed much game time by Brendan Rodgers, Lambert seems to be ready to fight for his place in the team.
But, with the return of Daniel Sturridge from injury, Lambert's chances of playing for Liverpool have only decreased.
With an array of strikers at Rodgers' disposal, which includes Fabio Borini, Mario Balotelli and Sturridge, it could even be difficult for the striker to find a place on the bench, considering Rodgers will play the former Manchester City and Chelsea striker and Raheem Sterling up front.
Both the English Premier League clubs, Aston Villa and Liverpool had agreed on a £5million fee, only to be rejected by the striker, reported Sky Sports.
Brendan Rodgers signed Lambert from Southampton, where he was one of the major success stories last season scoring 14 goals, for £4.5 million.
Selling the player to Villa would have been a wise move for both the player and the club, as he would have got more chances at Villa Park than at Anfield while Liverpool would also have made a small profit on the transfer. The former Saints striker has only started 10 times for Liverpool thus far.
Lambert wants to prove his worth in this team, for he is a boyhood Liverpool supporter.
Though, the player might not have signed during the January window, the player could be a subject to a move away from Anfield during the summer, especially with Divock Origi set to represent the Reds next season.
Earlier during the window as well, other English clubs such as Hull City and Crystal Palace were interested in acquiring the services of the English striker, but nothing concrete came out of it.
For Liverpool, he has only been a shadow of himself, scoring just three times for the Reds.
Brendan Rodgers signed two strikers during the summer, Mario Balotelli and Lambert, both of whom have been a failure for the Reds.
However, Liverpool did not commit to any signings during the January transfer window this season, when the team were said to be on the lookout for a goalkeeper, striker and a replacement for Steven Gerrard.
Some strikers who were heavily linked to the Reds during the window were West Brom's Saido Berahino, Gonzalo Higuain from Napoli, Karim Benzema from Real Madrid and Ezequiel Lavezzi from PSG.